Have you ever dreamt of settling in a hotel?
We all love to travel and we all love to stay in amazing hotels. You wouldn't be on MilesCop if you didn't, right?
But have you ever said to yourself - "This hotel is lovely. One day I will settle here, have kids and raise them in this beautiful upgraded room". My guess is 'No!'. At least I hope it's a no.
Hotel rooms are great. But for a short stay. But when you talk about weeks or months, they just don't cut it. Of course, in some business settings it's pretty common but that's an exception.
On the other hand renting an apartment for a few weeks is neither feasible nor worth the hassle.
Right there, in the sweet spot, between hotels and apartments sit Long Term Stay Hotels.
With more and more people taking longer holidays, Long-term stay hotels are gaining popularity across the globe.
Residence Inn by Marriott - Long Term Stay Hotels.
Residence Inn by Marriott is a chain of long term stay hotels by Marriott with larger rooms, apartments, full kitchens and other services required for longer stays.
When you think of Residence Inn by Marriott, think of it as an apartment inside a hotel.
Some of the features that make Residence Inn ideal for a long term stay are:
Approximately 50% larger rooms than typical hotel rooms
Studio suites, 1 bedroom and 2 bedroom apartments
Full Kitchen
Grocery Deliveries
Restaurants on site
Social Events
Pool and fitness center
Given that Residence Inn hotels have a restaurant, bar, pool and fitness centre, they do qualify as Full Service hotels.
Residence Inn: Rooms
Larger rooms is the primary selling point of a long term or extended stay hotel compared to regular hotel rooms. Residence Inn is no different.
A standard room at Residence Inn is a Studio Suite of an average 457 sq ft area with a full kitchen and a living area. Far more spacious than a regular hotel room.
Here's a list of various types of rooms available at a Residence Inn:
| Residence Inn | Studio Suite | 1 Bedroom Suite | 2 Bedroom Suite |
| --- | --- | --- | --- |
| Approx. Size | 457 sq. ft. | 564 sq. ft. | 739 sq. ft. |
of guests | 1-4 | 1-4 | 1-6
Televisions | 1 | 2 | 3 Dining Area | No | No | Yes Bathrooms | 1 | 1 | 2 Sofa Bed | Yes | Yes | Yes Full Kitchen | Yes | Yes | Yes Work Space | Yes | Yes | Yes Free Wi-fi | Yes | Yes | Yes
Residence Inn: Breakfast, Kitchen and Dining
All Residence Inn hotels have daily free breakfast.
The standard breakfast timings at Residence Inn hotels is 6:30 am to 9:30 am on weekdays and 7 am to 10 am on weekends and holidays.
Breakfast timings may vary from property to property.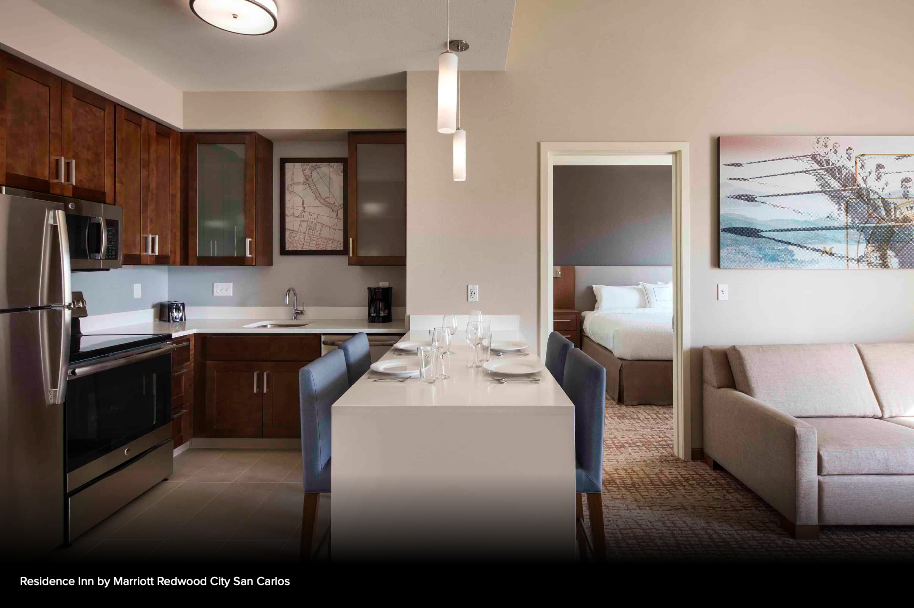 All Residence Inn suites (all room types are suites) feature a full kitchen with full-sized refrigerator, stovetop, microwave, dishwasher and coffee maker, along with essentials like pans, pots and crockery.
It's just like home. Plus on top of that, you also get free grocery delivery service at all Residence Inn properties.
There's also a 24 hour store on property to grab packaged food or drinks etc.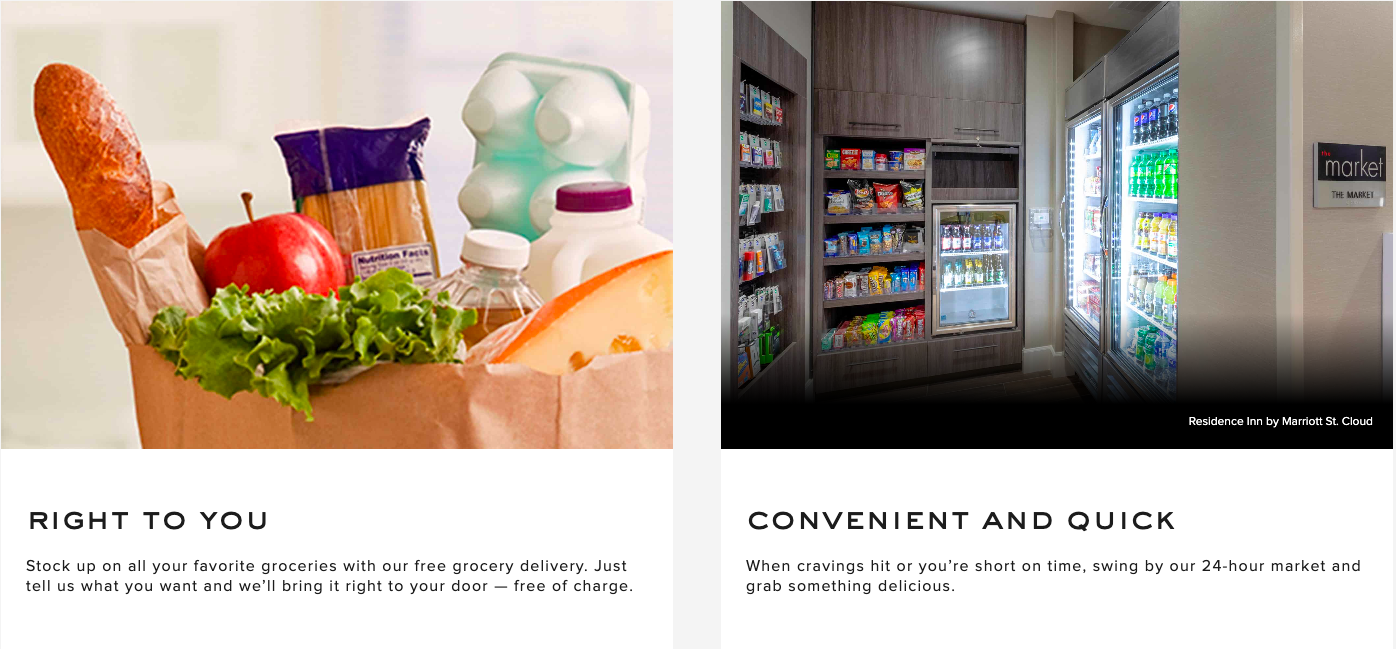 There's also a restaurant on all properties so it's not like you are just stuck with cooking yourself.
Most Residence Inn properties also have events on Mondays, Tuesday and Wednesdays with complimentary drinks, food, grill, local food features etc.
Residence Inn: Prices
Just like any other hotel, prices for stays at Residence Inn vary by dates, seasons, location and property.
It could range anywhere from less than $100 a day to upwards of $500. Generally, for longer stays, they turn out to be more cost-efficient than regular hotel rooms.
You can get good monthly rates at some Residence Inn properties. You will need to contact the hotel directly for that.
Residence Inn: Long term stay and Socializing
When you are away from home for weeks or at times months at a stretch, it's natural to miss home and your social support. Especially if you are not traveling with your family.
That's why, in my opinion, RI Mix is the most beautiful part of an extended stay at a Residence Inn.
RI Mix is a low key, chilled out evening with food, wine and opportunity to network or just get to know fellow guests staying at the property.
Unlike a regular hotel, you should be seeing familiar faces more often than not.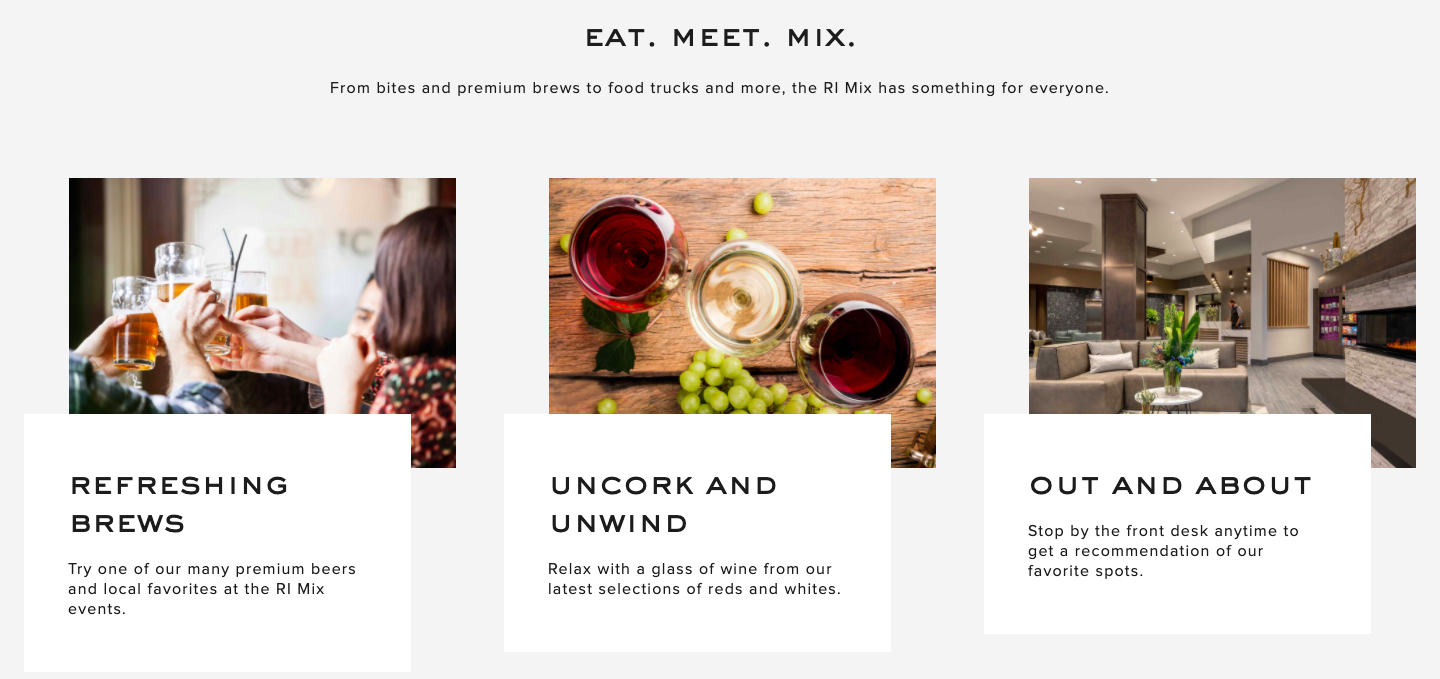 RI-Mix is generally organised Monday to Wednesday with grills, local food, wine, cocktails etc.
Residence Inn and Marriott Bonvoy
Residence Inn is a part of Marriott Bonvoy loyalty programme. You can earn points and nights, redeem your points and use your elite level benefits, just like any other Marriott hotel.
This also means that you can use all Marriott Bonvoy Promotions for your stays at Residence Inn, including upgrades, discounts and bonus points promotions.
If you are planning a stay at Residence Inn, subscribe to our free Marriott Bonvoy promotions newsletter and we will let you know of useful promotions.
So, should you book a Residence Inn for your next trip?
It's not that simple. Just like it's the case with every other hospitality brand, the experience varies a lot from property to property.
Online reviews can give you a good idea. Some properties are pretty chic and modern, while some Residence Inn hotels seem to be poorly maintained and managed.
Sadly, there's no escaping research on the particular property you are eyeing.
Overall, Residence Inn is very popular and one of the oldest extended stay hotel brands in the world.