When staying at a hotel that's part of a global chain, like Marriott, we naturally expect excellent service, well appointed rooms, and good overall stay quality. After all, we pay a premium for such accommodations.
However, in addition to good service, we also look for perks such as earning maximum points, discounted reward nights, and other benefits. While it's impossible to have it all, there are still plenty of advantages to be gained from our stays at Marriott hotels.
To help you in maximizing your benefits at a Marriott hotel, we have put together a list of mistakes to avoid when booking your next hotel stay with them.
Tip: If you have close friends or family working for Marriott, they might be able to get you the highly discounted Marriott Friends, Family, and Employee rates.
Mistake #1 – Not booking direct.
I can't emphasize enough how important it is to book directly with Marriott. If you use any travel booking websites, you will likely miss on points, bonus points, member-exclusive promotions, and the opportunity to get to a higher Marriott Bonvoy level.
Of course, you need to compare costs first. But in my experience, even if booking directly with Marriott is slightly expensive, it still saves you more in the longer run.
e.g., If you regularly book direct and achieve Marriott Gold status, one room upgrade alone could be worth $100-500.
In some cases, you can even claim Marriott's Best Rate Guarantee
Mistake #2 – Not claiming cashback.
If you are already using a cashback site, chances are it offers a cashback on Marriott bookings.
The best part is that you still get all the benefits of booking direct, as cashback sites mostly forward you to Marriott's website to make your booking.
I have been using Top Cash Back for booking hotels and for other online shopping sites for years now. It adds up pretty quickly.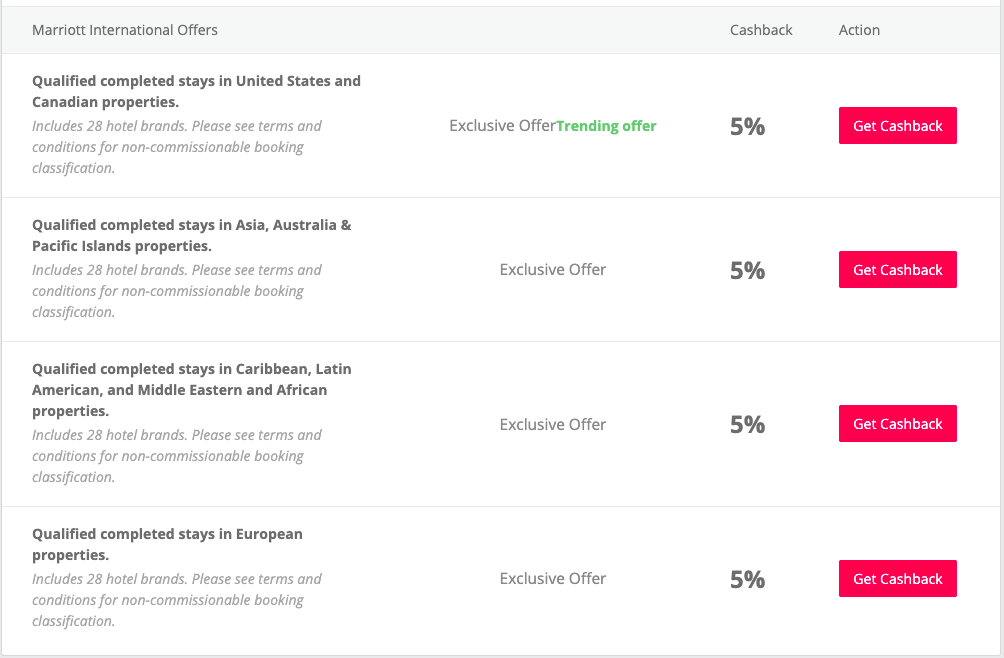 If you are not using a cash-back site, you are just leaving free money on the table.
Mistake #3 – Missing out on promotions.
Many times, we forget to review promotions before booking a stay. That's straight away overpaying.
Marriott consistently provides attractive promotions for Marriott Bonvoy members, ranging from substantial bonus points to impressive discounts of 20-50%. It would be a shame to miss out on these offers.
Take a quick look at the current Marriott promotions, to get an idea of the kind of offers available.
However, it's simple enough to take care of this. Keep an eye on emails from Marriott and consider subscribing to our Marriott Promotions newsletter.
You can also follow our Telegram channel for the latest hotel promotions.
Mistake #4 – Using the wrong card.
If you often stay with Marriott, you should have a Marriott Credit Card. You get bonus points, status upgrades, and a lot more perks.
Official Marriott Credit Cards are available in the USA, India, UK, Canada, Japan, UAE, Saudi Arabia and South Korea.
There's another unofficial Marriott Credit Card in India as well.
If you are not a frequent traveler, still take a look at all your cards and see which one gives you the best deals or maximum points at hotels. Many cards, especially those sold as travel cards, have hotel benefits as part of their offering.
Mistake #5 – Missing points and elite nights on multiple rooms.
Every time you stay at Marriott you earn base points, bonus points for promotions and for your elite status, and elite night credits.
Elite night credit is just a count of the number of nights you have stayed with Marriott. But that's what helps you get upgraded to a higher elite level with Marriott.
When you book multiple rooms for the same dates with Marriott from your account, this is what happens:
You earn points for all rooms, up to 3 rooms.
You earn elite night credits for only 1 room.
If there's a bonus point promotion (e.g., 1000 points per night), you will most likely get that once.
I will admit, this is better than what most other hotels offer. However, we can still do better.
Whenever I am traveling with family and I need multiple rooms, I book them all separately.
For example, if I require 2 rooms, I will book one with my Marriott account and the other with my partner's.
That way, both of us:
Earn points
Get Elite status credits individually
Maintain an elite status with Marriott
Higher chances of room upgrade for both rooms
Remember not to combine the bookings at check-in. Having front-desk executives modify anything on your stay rarely leads to a desired outcome.
Mistake #6 (US Only) – Missing Marriott points on rides and food.
If you haven't linked your Uber and Marriott accounts yet, you are probably losing valuable points every day.
You can link your Uber and Marriott accounts here.
Once linked, you earn:
3 Marriott Bonvoy points per dollar on Uber Premium rides (includes Uber XL, Uber Black, Uber SUV and Uber Comfort).
6 points per dollar when you order Uber Eats while staying at a Marriott hotel.
2 points per dollar for all other Uber Eats orders.
You now earn Marriott Bonvoy points on groceries as well.
For clarity of calculations, note that Marriott Bonvoy points are not awarded for tips, taxes, or fees.
Mistake #7 (Elite status only) – Missing free miles and airline perks.
Marriott has a partnership with 2 airlines with several additional benefits. You can earn extra miles, get elite benefits, and more when you link your accounts.
Marriott – Emirates Partnership
Once you have linked your accounts, you will earn Skywards Miles when you stay at Marriott hotels. Similarly, when you fly with Emirates, you will earn Marriott Bonvoy points. These rewards are in addition to the rewards you already earn through these programs. e.g., You will earn your regular Marriott Bonvoy points as well as additional Skywards Miles when you stay at a Marriott property.
Benefits vary by your elite status with both programs. You can read more about the program, and sign up for it on the promotion page here.
Marriott – United Airlines Partnership
If you are a Marriott Titanium, or Ambassador, you get free United MileagePlus Premier Silver Status. You also get a few more benefits when you link your accounts. You can read more about the partnership here.
Bottom-Line
Staying with Marriott can be very rewarding in terms of points, upgrades, and elite status. However, maximizing your returns from a loyalty program has a tiny learning curve.
At MilesCop, we make it easy for you to take advantage of these opportunities.