Marriott, in collaboration with HDFC Bank, has introduced the first-ever Marriott Bonvoy Credit Card in India.
This launch comes with many firsts.
First co-branded hotel credit card in India.
First credit card with elite night credits in India, for any hotel program.
First Marriott Credit Card on the Diners Platform, anywhere in the world.
However, unlike in other countries, the HDFC Marriott Bonvoy credit card in India is an entry-level card aimed at individuals who are just beginning to explore travel and hotels. If you have substantial credit card expenses, this may not be (and should not be) your primary card of choice.
You can read more about the card on the official page.

Benefits of the cards at a glance.
Marriott Bonvoy Silver Elite Status
10 elite night credits. (Upgrade to Gold for 10 fewer nights)
1 free night stay certificate. It can be redeemed at properties up to 15,000 points value (with the option to use an additional 15,000 points from your Bonvoy account for higher category hotels)
Marriott Bonvoy points on spends.
Access to Golf Courses – 2 times per quarter.
Airport lounges – 12 Domestic (both Domestic and International terminals) and 12 International lounges per year complimentary.
3 additional free night awards valued up to 15,000 points each by achieving spends of 6 lakhs, 9 lakhs, and 15 lakhs within the card anniversary year.
Reward points on spends
8 Marriott Bonvoy points per Rs.150 spent at hotels participating in Marriott Bonvoy
4 Marriott Bonvoy points per Rs. 150 spent on travel, dining, and entertainment.
2 Marriott Bonvoy points per Rs. 150 on all other eligible purchases.
Excluded categories
• Fuel • Smart EMI / Dial an EMI transaction • Wallet loads / Gift or Prepaid Card load/ Voucher purchase • Cash Advances • Payment of Outstanding Balances • Payment of card fees and other charges • Government related transactions & Rental transactions
Earnings calculation example.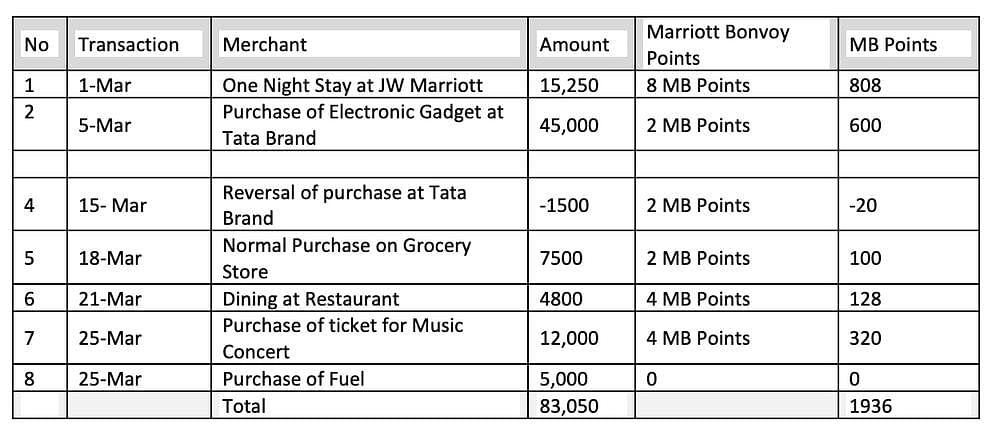 Annual Fees
HDFC Bank Marriott Bonvoy Credit Card is available at a Joining and Annual fee of Rs. 3000 plus taxes.
How to apply for HDFC Marriott Bonvoy Credit Card?
You can apply online here for the HDFC Marriott Bonvoy Credit Card. If you have an existing relationship with HDFC Bank, this card may show up as a pre-approved card.
If you already have an existing HDFC Bank credit card, it appears that you can hold this as an additional card with a shared limit, like the Tata Neu Card.
Does it make sense to get the HDFC Marriott card if you already have other premium credit cards?
Despite the introduction of this new card, the Amex Platinum remains the top credit card for Marriott benefits in India.
In fact, even though the Axis Reserve and Axis Magnus cards have been devalued, they still earn more Marriott Bonvoy points than this official card in most cases.
We can also expect HDFC to add Marriott Bonvoy as a transfer partner to Diners Black and Infinia credit cards.
However, it still makes sense to apply for the HDFC Marriott Bonvoy Credit Card.
For Rs. 3000 (3540, including taxes), you are getting a free night certificate worth 15,000 points. This alone is good enough to justify the fee.
10 elite night credits can be very useful as well.
Moreover, if you are staying at a Marriott hotel in India, the card's offer of 8 points per Rs. 150 spent will likely exceed any other card in your wallet. This may not be the case internationally, as some cards offer 2x or 3x points for spends in foreign currency.
Bottom-line
Marriott has launched its first credit card in India. And it comes with some excellent benefits for that fee.
We can expect to hear about more Marriott Bonvoy credit cards in India in the near future.
It wouldn't be surprising if we get an American Express Marriott Credit Card in India next, considering the existing partnership between Marriott and Amex for co-branded credit cards across various countries. Moreover, there exists a significant potential for a high-end Marriott credit card in India.