Radisson Rewards (non-Americas) has gone through a major revamp, and it's not good news.
I have had some excellent stays at Radisson properties in the past, but most of them were 4 or more years back.
However, it has been tough to be loyal to Radisson Rewards for some time now. And now, they have made it even easier to be not bothered about their loyalty program at all.
Radisson Rewards went through a major revamp. And it's more of a cashback program now. With almost no guaranteed benefits, except one or two at the highest level.
Here's a quick look at the new Radisson Rewards program.
New elite tiers
Radisson Rewards now has only 3 tiers – Club, Premium, and VIP.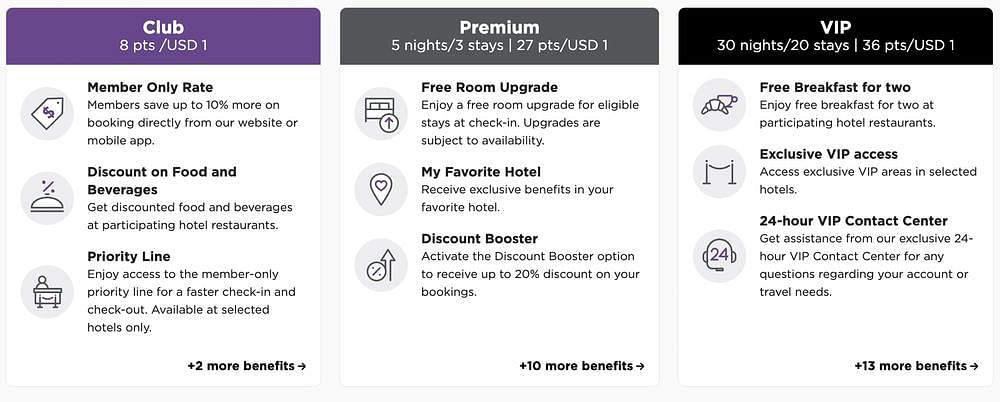 It's pretty easy to qualify to any of those, as the number of nights/stays required is pretty low compared to other programs.
Current Radisson Gold members, including the members with Radisson Gold via Amex Platinum and other cards, will be matched to 'Premium' elite tier.
This is a downgrade for Gold members, as the earlier status had more value.
| Feature | Gold (earlier) | Premium (new) |
| --- | --- | --- |
| Status requirement | 30 nights or 20 stays | 5 nights or 3 stays |
| F&B Discount | 15% | 10% |
| Room Availability Guarantee | 72 hours | Not Available |
| Points Earned | 25 points per $1 | 27 per $1 but lower value |
There are reports that VIP status can only be earned and not status matched.
Bye bye award nights. Hello tiny discounts.
Radisson Rewards points were devalued significantly. They have moved to dynamic pricing from fixed points cost for properties.
So more expensive the room, more the number of points required.
Nothing wrong with dynamic pricing per se. IHG and Marriott both have dynamic pricing. The problem is with the value a point gets.
Radisson Rewards points are now valued between 0.01 cents to 0.25 cents per point. These are offered as a discount on bookings made at any rate. You can choose the number of points to use.
The best value is generally when you redeem for the full price. This is similar to how Accor hotels values their points. But their points offer much better value.
You could book a room for as low as 9000 points earlier. Now, you would be lucky to get a $20 discount for that many points.
Just a few guaranteed benefits
The benefits list of Radisson Rewards is probably the smallest I have seen for any loyalty program. The only tangible benefits are:
Earn points.
Discount on F&B.
Breakfast for 2 at the highest level.
There are a few more benefits that are not guaranteed. Like upgrades, early check-in or late check-out.
Since they are not guaranteed, it's impossible to put a value to them. You might get upgraded 100% of the time or never get upgraded.
Bottom-line
Radisson just went ahead and devalued their program with no prior warning. It's a significant loss for people with lots of Radisson points, a.k.a. the most loyal members.
This is another reminder that you should not sit on too many reward points for too long. Points do get devalued, and they will get devalued at some point.
Just use your points whenever you get a good value.