Hilton Honors
Get 2000 points per stay with Hilton Points Unlimited - Jan to May 2021
Sun May 02 2021 00:00:00 GMT+0000 (Coordinated Universal Time)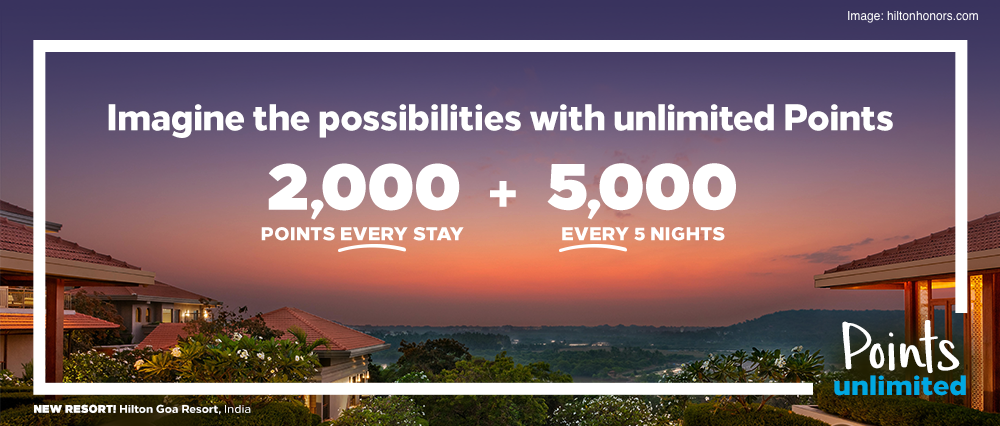 Additionally get 5000 bonus Hilton Honor points for every 5 nights stayed at participating Hilton properties worldwide.
Stay From:
January 1, 2021
View Offer
Please Note: Content on this page is for information purposes only and we do not guarantee the accuracy or timeliness of the same.
Disclosure: Some links on this page might be affiliate links.
Hilton Points Unlimited promotions are always attractive. And this one is no different.
You get 2000 bonus Hilton Honor points per stay and additional 5000 points for every 5 nights.
Registration for the promotion is required to earn bonus points.
You need to complete your stay between January 1st 2021 and May 2nd, 2021 to benefit from this offer.
Unlimited Points
There is no limit to the number of points you can earn. e.g. If you stay 10 times, you get 20,000 bonus points. And so on.
Similarly, you get 5000 bonus points for every 5 nights at Hilton properties.
Even reward nights are eligible for this promotion.
So if you have a total of 5 stays with 25 nights, you will earn 5x2000 points for stays plus 5x5000 points for five 5-night stays.
Multiple stays with consecutive nights are always considered as one stay.
If you are checking in before Jan 1st or checking out after May 2nd
If your check-in date is before January 1st but your check-out date is during the promotion period, you are eligible to earn the bonus points. However, you need to register for the offer before you check-out.
If you are checking out after May 2nd, you won't be earning bonus points for that stay.