Location, Price, Reviews, Pictures, Amenities, Facilities, Brand… phew. As if choosing a hotel was not complicated enough already, we, the greedy loyalists, have added another layer to the confusion - Maximizing our hotel points earnings.
But you, my friend, are lucky. If you want to make the most of your next stay with IHG, everything you need to know is right here.
For the uninitiated, IHG Rewards Club is the loyalty program of the Intercontinental Hotel Group, which owns brands like InterContinental Hotels, HUALUXE Hotels & Resorts, Kimpton Hotels, Crowne Plaza, Hotel Indigo, EVEN Hotels, Holiday Inn, Holiday Inn Express, Holiday Inn Resort, Holiday Inn Club Vacations, Staybridge Suites, and Candlewood Suites.
If you know the right rules, offers and strategies, after every single stay, you can end up with thousands of reward points instead of just a few hundred points (which most people end up with btw).
Well then, without wasting any more time, let's get to the point. (See what I did there? :P ).
If you are not an IHG Rewards Club member, then it's a good time to join now.
Look before you book.
The key to maximizing your IHG Rewards earnings is making use of their zillion offers. Some earn you a few thousand bonus points and some, like the recent AMEA promotion, can earn you as much as 71,000 bonus points.
There are 2 places, I would recommend checking before you book your stay.
MilesCop.com IHG Offers Page - Good for most offers and
Your Mail Account - Good for exclusively targeted offers. Just search for mails from IHG Rewards Club.
Note: You only earn points for direct bookings on official IHG site or app. No exceptions.
Take a break. Have a free stay.
Even though this post is about maximizing your earnings, IHG PointBreaks deserves a special mention. With PointBreaks, you can book a stay for as low as 5000 IHG points. Check the current IHG PointBreaks list here. If the property you are interested in is on the list, go ahead and use your points. After all, a point saved is a point earned.
UPDATE: IHG PointsBreak seems to be on hold for now. We are not yet sure if it has been discontinued permanently or they just skipped one date.
Cashback is worth as much as points
Never ever book a hotel without going through a cash-back site. Our favorite around here is TopCashBack for IHG. You get 3-12% cashback on every booking. Often that's worth as much as or more than the points you earn. Plus you will get all your points anyway, since you are still booking with IHG directly. Only going via the site.
No reason to not use them.
Instant IHG Platinum: Might be worth paying for.
You can buy instant IHG Platinum (along with a host of other benefits, including a free night) for $200 with Intercontinental Ambassador Program. Now, whether you should buy, or not, totally depends on your itinerary.
Cases like a long holiday or multiple upcoming stays at IHG or a stay at InterContinental Hotel are likely to benefit more from an IHG Platinum Elite status. In case you decide to go for it, make sure that your account is upgraded before you book your stay.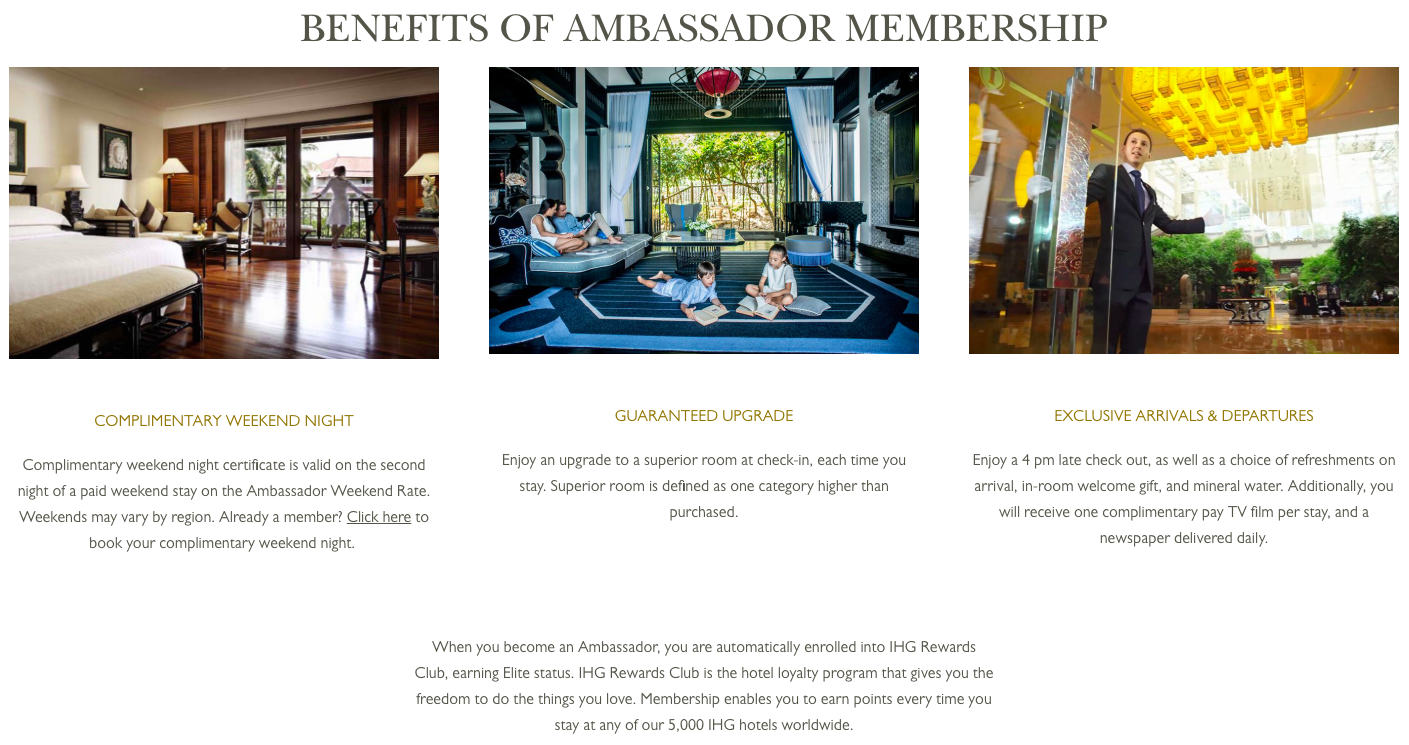 Multiple Rooms in a single booking? NOOOOO!!!
IHG doesn't seem to like big families. But then who does, right? IHG does not award points and night credits (so no quick elite status either) for multiple room bookings from a single account (with a few exceptions). You may book 4 rooms, but you will still earn points and nights credit for just 1. I have learned this the hard way. Lost tens of thousands of points for booking multiple rooms.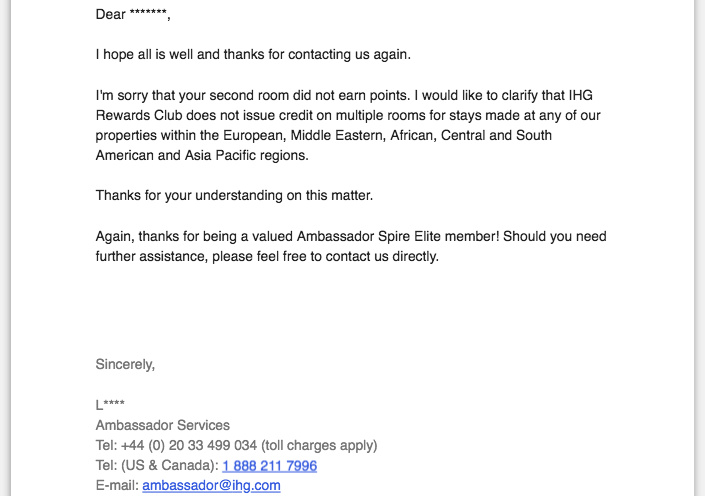 Families that don't book together, earn better.
However, the solution is pretty easy and even more rewarding. If you are traveling with family, create a new account for your spouse or any other family member. Book the other room on their name. Added benefit - you can enroll for and use all the offers for that other account also. Just remember to not combine the bookings at check-in.
Want to earn even more points for the second room? Try IHG Business Rewards and earn 3 points per USD to book for others. While they earn full status and bonus points.
The Secret Ingredient
If there's one thing that I love about IHG the most, it's - Elite Bonus Points Packages. These packages give you points, ranging from 1,000 to 5,000 per stay in addition to the points you already earn. But the best part about these points is that they are elite status qualifying. That means, a few stays might be enough for a platinum or a spire elite status.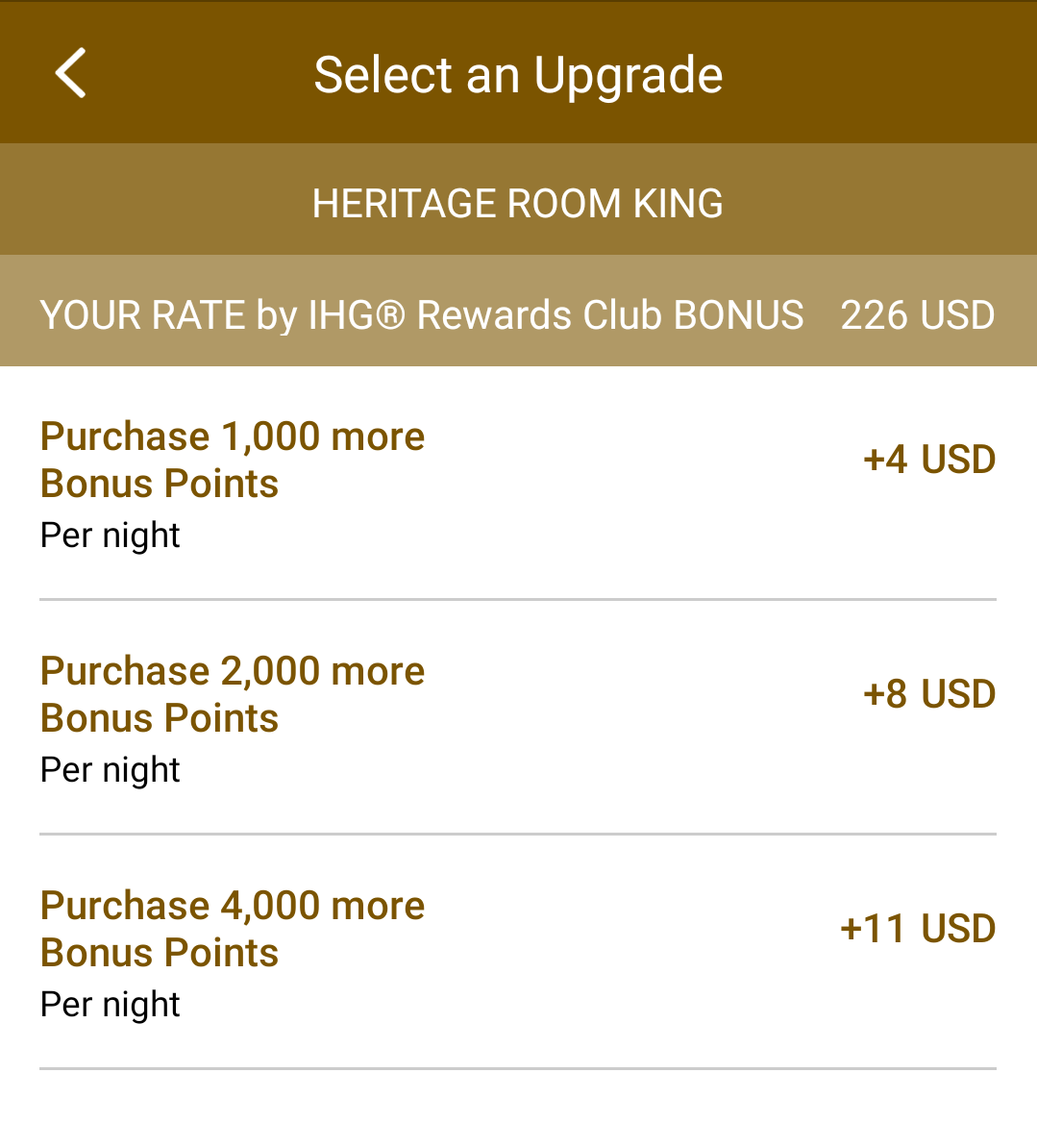 Recently, I booked a 12 night stay in Thailand. I had to pay just 2$ per night extra for a 3000 bonus points per night package. So that means 36,000 elite-qualifying bonus points for 24$ extra. Insane! Enough points in one stay to become a platinum member. For 24$ extra. Like I said, insane!
I don't remember even one occasion when I have booked IHG without a bonus points package, since I learnt about them. Did you ask my status? Well, am a Spire Elite. And you know how.
Caution: Don't get too excited about that little estimate.
Point estimates shown while booking can give you a pretty good estimate about your earnings. However, they are not reliable. For instance, when I booked two rooms from my account, the estimate clearly showed points for BOTH rooms as part of my earnings. However, as we discussed earlier, I was given points for only one room. On sending a mail to the customer care, their reply was… well, read it yourself.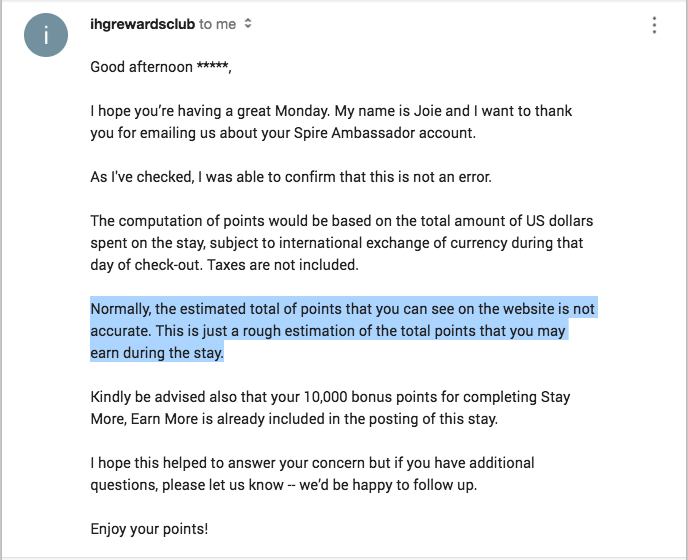 Set your expectation right with IHG.
IHG is not about showering you with upgrades, goodies or going that extra mile to make you feel special. Even though some hotels do, but that's more of an exception than a rule. Let's face it - IHG is no SPG. Heck, they don't even have complimentary breakfast for their topmost elite members. Which almost every other loyalty program does, by the way.
However, there is one thing IHG beats any other program in - Points. Yes, points. You can earn a lot more points with IHG per stay than most other chains. They might not have complimentary breakfast but they have 100% bonus points for Spire Elite members. Which is not that common in the industry.

So, we were talking about the expectations. Having stayed a lot with IHG (I even got married in one of their hotels), I check-in with the expectation of earning a lot of points and thereby free nights. Whatever extra is offered, it's a bonus.
Put everything to your room.
Try to put everything to your room - especially dining bills. You get points for them. But only if it's part of the invoice linked to your account. Putting it to the room guarantees that.
Most hotels don't offer points on Spa etc but members generally get 10-20% off. Don't forget to ask.
Keep the Bill
Check your bill properly. And then keep your bill safely. At least till all the points are credited to your account. I had to scan and mail bills to the customer care so many times because the correct amount wasn't credited. Online bills DON'T work for several IHG hotels. Your account just says bill not available.

USA: Get a credit card
IHG offers two credit cards in the USA - IHG® Rewards Club Premier Credit Card and IHG® Rewards Club Traveler Credit Card. These cards offer up to 80,000 points as sign-up bonus, elite status and several more earning opportunities. And you can use it to earn additional points on your stay apart from what you will earn through the opportunities we just discussed.
It's check-out time…
Wish you all the best in maximizing your IHG earnings. Subscribe for IHG updates to stay up to date about IHG offers and ways to earn more.