If you are a regular reader of MilesCop, you know how focussed we are on maximizing points we earn from our hotel stays.
We go through special codes, links, tie-ups and pick the most rewarding card, amongst other things. (If you haven't joined the fun yet, it's a good time to consider subscribing to our newsletter.)
In our experience, Marriott Bonvoy is one of the most rewarding hotel loyalty programs out there. Lots of promotions, good points value, and a large number of hotels to choose from.
That's why it's important to keep a track of Marriott points expiry and extend the validity in time. We can't let free nights go waste, right?.
When do Marriott points expire?
Marriott points expire if there is no qualifying activity (we will get to qualifying activities later in this post) for a consecutive period of 24 months.
That means, all your points will go away in one stroke. Doesn't matter how and when you earned them. It will be back to zero.
Once the points expire, there is no way to get them back. That's why it's important to proactively track the expiry of your Marriott Bonvoy points and make sure you don't let them expire.
How to check when your Marriott points are due to expiry?
Thankfully, Marriott makes it pretty easy to track it.
Visit your Marriott Account Activity page, set the filter to 'Qualifying Activity', and check for the last qualifying activity date.
You can see all your 'Qualifying Activities' directly as well.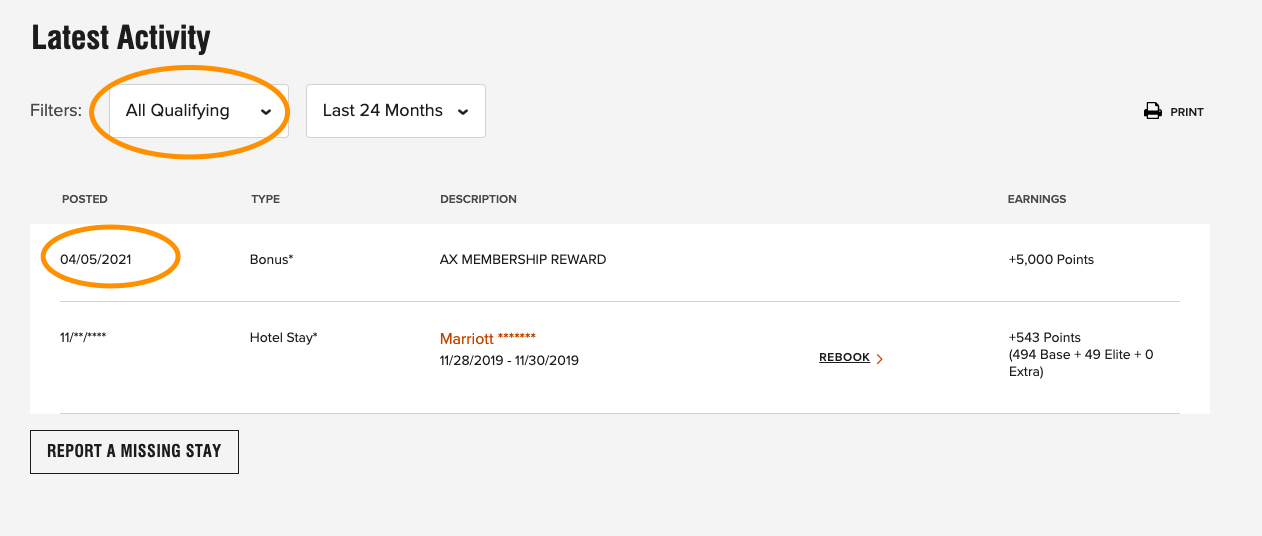 Once you know the date, it's easy to add 24 months to the same and figure out the date for points expiry.
Awards redeemed prior to your points expiry are still valid even if the award stay is not completed at the time of points expiry.
Lifetime Elite Membership Accounts are safe from points expiry risk as of now. However, that might change in the future.
How to extend your Marriott points validity?
Once you know you need to extend the validity of your Marriott points, it's not tough to do it.
You need any one of the following qualifying activities and you are good for 24 months.
Completed paid or points redemption stay posted to your account. Needs to be a completed stay. Just booking one is not enough.
Non-Stay Hotel Spending posted to your Account. e.g. Dining or Spa where points are awarded.
Qualifying points from events, meetings, conferences, etc.
Credit card points earnings. Whether it's a Marriott Credit card or any other that lets you transfer points to your Bonvoy account.
Program Partner Earnings
MVW Owner Earned Points for Exchanges
Purchasing Points - You can purchase points here
Vacations by Marriott Earnings
Converting your Bonvoy points to partner airline miles or vice-versa.
Redeeming a few points also extends the validity of your overall points. Note that this excludes Hotel Awards and Travel Packages.
Qualifying activities might take some time to post the points. Don't forget to keep some buffer.
Non-qualifying Activities
There are a few non-qualifying activities as well.
Gifting or Transferring Points to another Bonvoy member
Receiving Points as a Gift or Transfer from another Bonvoy member
Vistana points expiry
Marriott Bonvoy points received or earned via Vistana have a validity of 6 years, irrespective of your standard qualifying activities.
Basically, there is nothing you can do to extend them. However, 6 years is a long enough period to redeem points.
Conclusion
Marriott doesn't make it too hard to retain your points, unlike a few other loyalty programs.
You just need to remember to extend the validity in time.
IMHO, purchasing points and credit card transfers are the easiest way to extend the validity of Marriott Bonvoy points. And you need to do it just once in 2 years.