How much is a Marriott Bonvoy point worth? This is a question we keep asking ourselves again and again.
Yes, there are some indicative suggestions easily available, but it's not that simple.
There are a lot of factors involved in determining the true worth for you.
For example, if a hotel 5000 miles away is giving you the best value for Bonvoy points, is it practical? What about flights and other costs?
Let's see how we can figure out Marriott points value that works for you. And how can you maximize your Marriott points redemption value?
Why is it important to know the value of a Marriott Bonvoy point?
There are primarily three reasons Marriott points value can come in handy.
To decide whether to book a stay on points or cash.
To estimate the value of bonus points you are getting with a credit card and whether it's worth the annual fee.
To redeem for stay or flights or other options.
Redeem for stays or flights or…
Before we begin, let's get this out of the way.
In most cases, reward stays (or free nights) give you the best value when it comes to redeeming Marriott Bonvoy points. In fact, this is true for most loyalty programs.
However, Marriott's flight redemption is not that bad either. Sometimes, it can offer a great value with transfer promotions. Especially when you have a lot of points and you can use them for both stays and flights.
I won't bother about other redemption options available.
How to calculate Marriott Bonvoy points worth?
Let's see how we can calculate the right Marriott Bonvoy points value when redeeming for stays.
Here's what all we need to get the right value:
Cost of stay on cash, including taxes. For the entire stay.
Points you would earn on your stay basis your Marriott elite level bonus and current Marriott promotions.
Number of nights. (Hint: 5 is the magic number. Keep reading.).
Number of points required for the entire stay.
Cost of points acquisition. e.g. credit card fee. This will help to compare.
With these values in hand, it seems like a simple calculation. Well, hold your thoughts.
It is important to know how many Marriott Bonvoy points you would earn if you pay for it with money instead of points. Because you are not just paying with points, you are also missing points. So that needs to be adjusted.
How to calculate the cost of stay on cash?
With most hotels, it's pretty simple. You see the room, add taxes, and done.
With Marriott, there's a sweet little hiccup.
Marriott, at times, offers multiple types of rooms (sometimes even suites) on points. In fact, many times, higher category rooms are available at the base points rate.
That means you need to first look for redemption options, pick a room type, and then see how much it costs.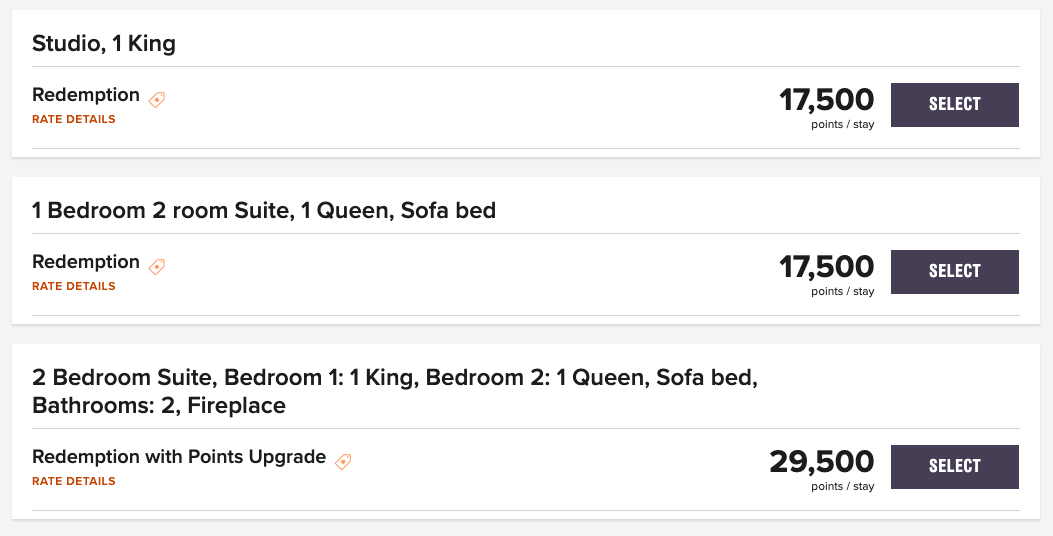 The above screenshot is for Residence Inn in California. As you can see, the Studio and 2 room Suites are both priced the same for redemption. However, cash prices are not the same.
So choose the best redemption rate and get the matching cash value. Don't forget to include taxes, fees, etc.
Number of nights matters.
Marriott offers 5th night free on Bonvoy points redemption. Put it simply, you pay for 4 nights with your points and you stay for 5 nights. That's a great value.
A straight 20% discount on points redemption.
This greatly enhances the value of Marriott Bonvoy Points. And is a great way to maximize your points.
If you have a limited number of points, try to save them and plan for a 5-day trip.
Calculate how many points you would miss out on.
Here is a ready reckoner for the number of Bonvoy points you earn when you stay at a Marriott property.
| Brand | Base Points |
| --- | --- |
| Residence Inn, Townplace Suites and Element | 5 points per USD |
| All other brands | 10 points per USD |
*Note: You don't earn points on taxes, gratuities, and other fees. *
| Elite Status | Bonus |
| --- | --- |
| Silver | 10% |
| Gold | 25% |
| Platinum | 50% |
| Titanium | 75% |
| Ambassador | 75% |
Now it's simple to calculate
Here's an example to help you calculate.
| Description | Calculation |
| --- | --- |
| A. Hotel Cash Value for 5 nights | $1000 + $100 taxes etc. |
| B. Base points earning | 10000 |
| C. Gold elite bonus points | 2500 |
| D. Promotional Points | 2000 |
| E. Points required for redemption | 60,000 (5th night free) |
| F. Total points loss over cash (B+C+D+E) | 74500 |
| G. Points Value (F/A) | ~ 1.5 cents. |
The value for a Marriott Bonvoy point you get will vary hugely from property to property and dates of travel. So do your own calculations.
With some research (and lots of time), you can get a value of 2 cents or more for a Marriott Bonvoy point.