Even with international roaming charges becoming more affordable, they are still considerably pricier than getting a local SIM card in most countries. Luckily, with the rise of eSIMs and the support for them in new flagship phones, obtaining a local SIM card has never been easier.
We recently had an excellent experience getting two eSIMs for Thailand, and we're here to share the details.
Purchasing a Data Only eSIM Online for Thailand
Our first eSIM had a simple purpose – providing us with data access as soon as we arrived in Thailand. This was incredibly useful for booking cabs, finding our way around, and sharing hotel bookings.
We were fortunate to find an excellent Thailand eSIM on Klook for approximately $6. This data only eSIM offered 30 days of validity with 15GB of high-speed data, followed by unlimited low-speed data.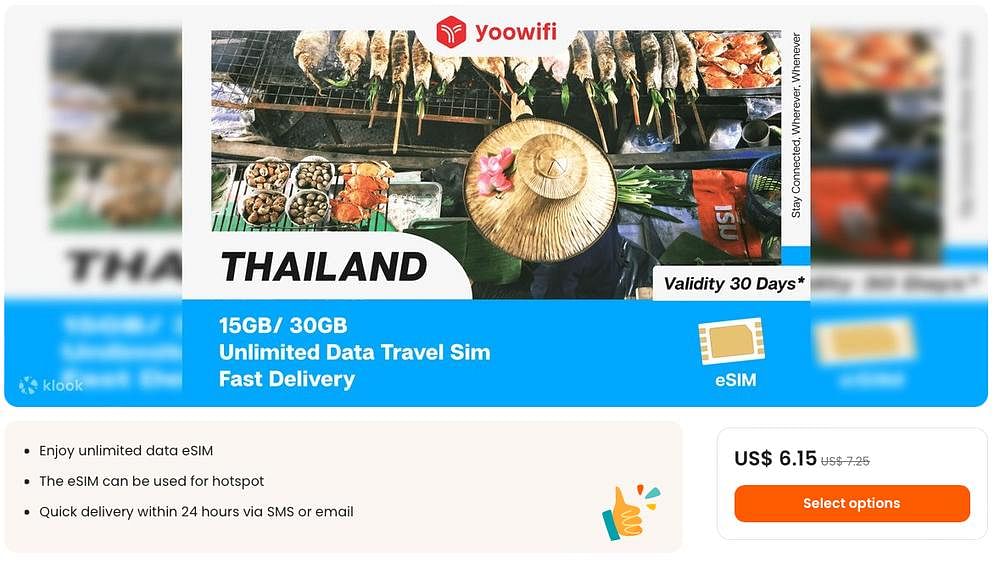 Once we ordered the eSIM, it was delivered to our email within 24 hours. We simply scanned the QR code provided via email, and the SIM was activated in no time. This convenience allowed us to have our SIM ready even before leaving for the airport.
It's important to note that this is technically not a local Thailand eSIM but rather a Three Hong Kong Sim with a Thailand roaming pack. It requires Data Roaming to be turned on.
While the SIM worked flawlessly, there were some minor drawbacks:
It did not support 5G connectivity; we were limited to 4G/LTE or even 3G at times.
Recharging the SIM was not an option – it was a use and throw SIM. If you plan on staying in Thailand for more than 30 days, you will need to order a new one.
Voice calls were not supported.
Second eSIM with Voice and 5G Support
Since our stay in Thailand exceeded a month, we decided to get another eSIM that offered voice support and ideally came with 5G capabilities. After extensive research, we chose TrueMove H as our provider. One of the main reasons for this selection was the English-friendliness of their website, app, and stores.
We visited a local True Store in Bangkok, which can be found in almost every mall. The process of obtaining a prepaid (PAYG) eSIM in Thailand involves two steps: getting a physical SIM card first and then converting it into an eSIM.
The store we visited only had tourist SIM cards available. However, we wanted a basic SIM card that we could top up as needed. Following the advice of True executives, we went to a nearby 7-eleven store and purchased a 49THB SIM card. It was activated right at the 7-eleven store, requiring our passport for verification.
Once activated, we returned to the True Store with our new SIM card and Passport. Within minutes, the sim card was converted into an eSIM and installed on our phone by the knowledgeable True executives.
Managing your True account is conveniently done online through True iService, or you can download their app with the same name for easy access.
Note that if you buy physical True SIM online from travel sites, you won't be able to convert them to an eSIM. Only SIMs registered in your name can be converted. Most SIMs available online are registered in the travel company's name.
Recharging Your True Move SIM with an International Credit Card
While the True iService app supports recharging with international credit cards, it unfortunately did not work for us.
However, recharging your True Move sim card is easily done at any 7-eleven store. If you prefer to recharge online, we found success using Lazada (there's a 'Change Language' link in the gray bar at the top of the page). This option also works through their app.
Keeping your True Move prepaid card active for your next trip
If you intend to visit Thailand again, you can continue using your current True Move SIM card. However, it's important to ensure that the card remains valid and doesn't expire.
Each True Prepaid SIM card has a validity period. Whenever you recharge your account, an additional 30 days of validity is added to it. The maximum validity period can be of 365 days.
To extend the validity for a full year, you could top up your account with 10THB twelve times.
After having the SIM card for at least 3 months, you also have the option to extend its validity for an additional 6 months by paying less than 20THB in total. This option will appear in the app once your number has been active for 3 months.