Hilton Honors
Get 25% off in Europe, Middle East, and Africa
Mon May 09 2022 00:00:00 GMT+0000 (Coordinated Universal Time)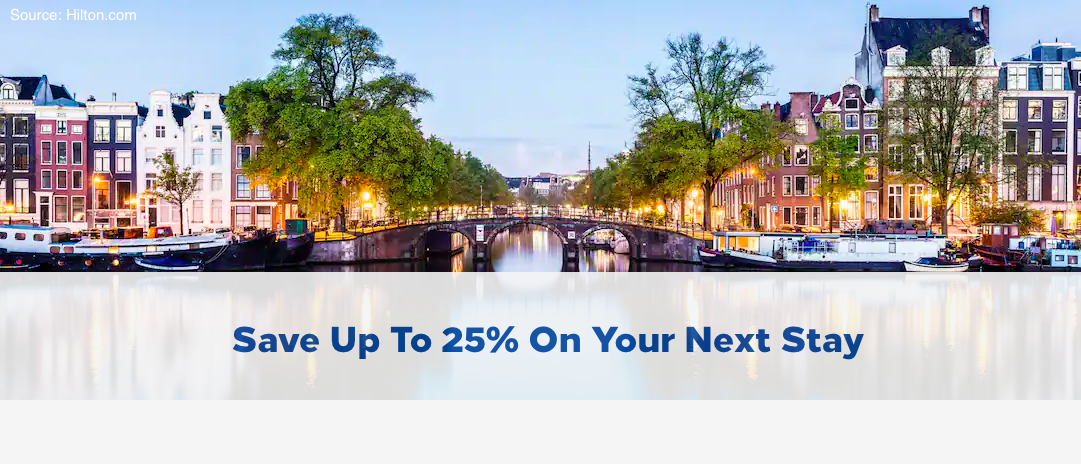 Hilton just announced its EMEA Winter Sale 2021. The promotion is applicable on weekend stays only.
Book By:
January 31, 2022
View Offer
Please Note: Content on this page is for information purposes only and we do not guarantee the accuracy or timeliness of the same.
Disclosure: Some links on this page might be affiliate links.
Hilton just announced its EMEA Winter Sale 2021 for weekend stays that's available for bookings all the way till mid 2022.
Hilton Honors members can save up to 25% on their weekend stays at participating Hilton properties in Europe, the Middle East, and Africa.
You need to book by January 31st, 2022 for stays until May 9th, 2022.
The best rate you can get with Hilton is when you know someone working with them and willing to get you in Hilton's Family and Friends Program (Hilton Go).
But, not all of us have a close friend working with Hilton. That's why we need such sales. Unfortunately, this one isn't that sale.
It's not that simple
The sale looks pretty good on the outside, however, terms tell a different story.
You need to book at least 3 days in advance. Which is not that big a deal. However, the rate is fully prepaid, cannot be modified, and non-refundable.
Plus overall the discount seems to be more in the range of ~10% at most properties.
So a fully prepaid non-refundable rate for a small discount is not something I would be inclined to go for.
There's another line that seems to be a little unfair - If you fail to arrive at the hotel on the scheduled arrival date, your reservation will be canceled and you will not receive any refund or credit.
Terms also state that some hotels may offer discount on premium room categories only.
Conclusion
It's very surprising to see a promotion with so many conditions coming from Hilton. They are generally better than others in this regard.
Personally, I don't think it's time yet to start booking fully prepaid and non-refundable rates for holidays.
Of course, there are still other current Hilton promotions to choose from.