Edit: Updated for 2022 offer.
Traveling regularly and staying with a particular hotel chain gets you a lot of value in terms of rewards, elite status, and recognition. However, as much as we try to stick to one brand, there are times when we need to book another one.
It could be a temporary or a long-term shift due to reasons like a change in your company's corporate tie-up or a bad experience with a particular group of hotels.
In situations like these, status match offers come in very handy.
Simply put, you can carry on with your elite benefits earned on another chain without starting from scratch.
Hilton Honors Status Match
Hilton Honors is one of the few hotel chains that still offers a good status match offer.
It's a mix of an instant status match and a status match challenge for extending the status.
You can get upgraded to either gold or their diamond elite status.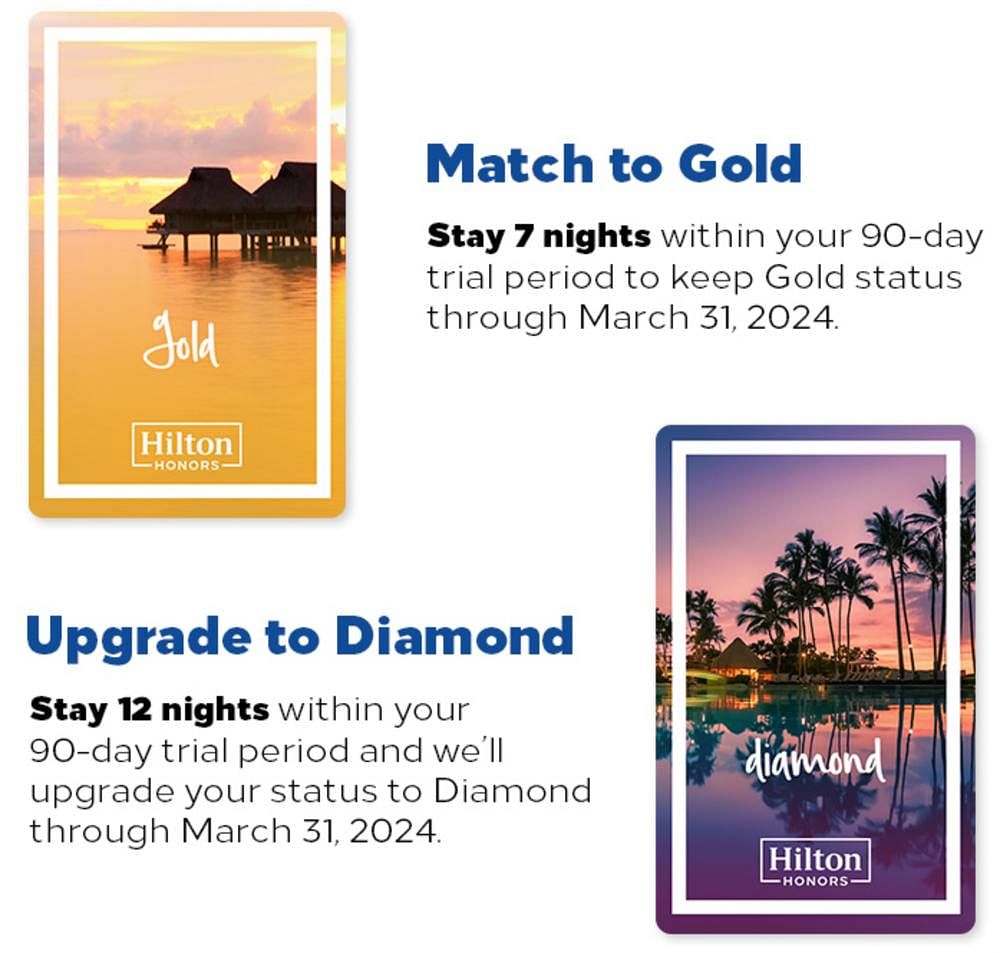 Hilton Honors Gold Status Match
Once approved, you will get Hilton Honors Gold status for 90 days instantly. To extend the status, you will need to stay for a minimum of 7 nights (was 10 nights pre-covid) in that 90 day period.
Hilton Honors Diamond Status Match
To match to Hilton Honors Diamond status, you need to first get status matched to Hilton Gold and then fast-track it to Diamond.
Get your Hilton Honors Gold status for 90 days approved. Then stay for a minimum of 12 nights(was 18 nights pre-covid) (instead of 7 for Gold) in that 90 day period to fast track to Diamond.
Hilton Status Match Challenge for 2022 will give you elite status till March 31st, 2024
How long is the status valid for?
Your status would be normally valid till the next March 31st. So that's a minimum of one year plus the time till coming March 31st.
How to apply for a status match with Hilton Honors?
Request for a status match at Hilton's Status Match Page. You will need to upload proof of status and stay with another chain.
Once status match is approved, you will get instant Gold for 90 days.
Stay 7 nights within 90 days to extend the Gold Status till next March 31st (not the coming one)
Stay 12 nights within 90 days to upgrade your status to Diamond through next March 31st.
Conclusion
Hilton Honors is a good loyalty program with some great benefits and they have made it really easy to switch. If you are unhappy with your current hotel chain, even the 90 day trial period is great to try out Hilton.