We all love double-dip opportunities, especially when it comes to booking hotels. One of the easiest ways to do is with cash back sites.
Unlike OTT travel aggregators, cash back sites redirect you to the hotel's website for booking. And that's why it is considered as direct booking. Cash back is generally a percentage of commission the cash back site receives from the hotels.
You earn other benefits as usual - points promotions, elite benefits, credit card rewards etc. that you would get via direct booking.
One of the more popular cash back sites is TopCashBack(ref link). We have been using it for years now with some good cash back earnings.
Currently, TopCashBack is running an enhanced promotion for IHG hotels and resorts worldwide.
You can get as much as 7% cashback on paid bookings at participating IHG properties.
You can read the offer details here. Don't forget to register for an account before booking.
Remember, this is over an above all the current IHG discounts and promotions available for direct booking. You should also earn your points and bonus points, if any, as usual.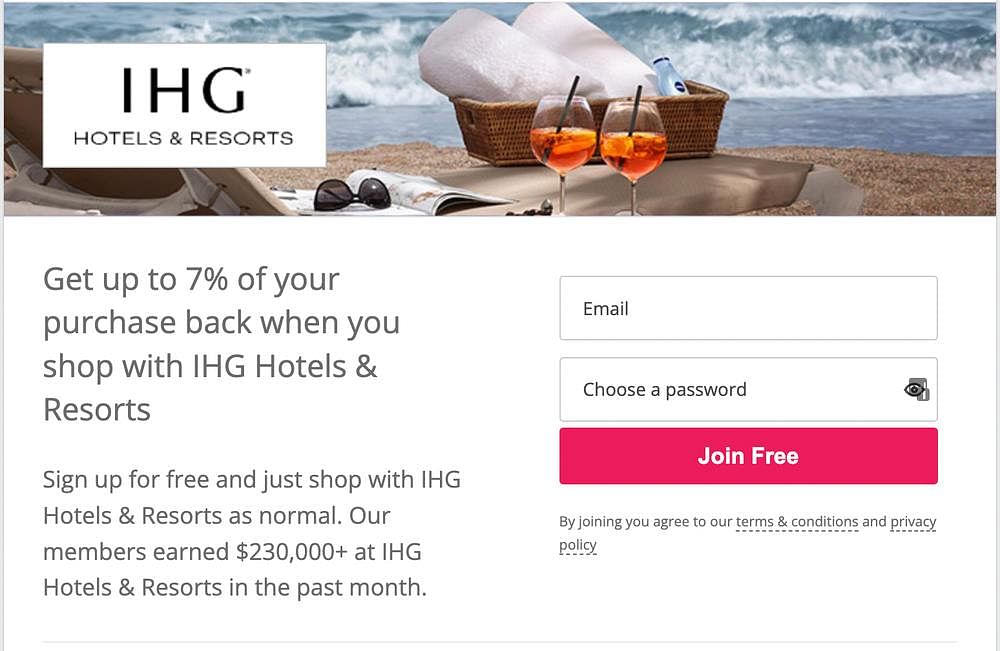 Ineligible rates
There are certain bookings that are excluded from the promotion.
Stays not actually completed, even if you paid for it.
Stay at properties in Israel will not earn cash back.
Kimpton (properties in North and South America), Mr. and Mrs. Smith, Six Senses, Army Hotels
Non-commissionable rates like points booking, cash plus points, special rates, employee discounts etc.
Certain discount codes will also make you ineligible for cash back.
Conclusion
I have been using cash back sites for years and still continue to do so. They add up quickly, especially if you are on a long trip or are staying at expensive properties.
These sites work with almost all hotel chains, as well as general shopping sites.