IHG is offering a bonus of 100% points on purchases of IHG One Rewards points. 100% bonus is equivalent to ~50% off on the retail purchase price of the points.
This promotion requires a minimum purchase of 5000 points.
You can buy IHG points on the promotion page.
This offer is available for points purchases made until 11:59 PM ET on 28 July 2023.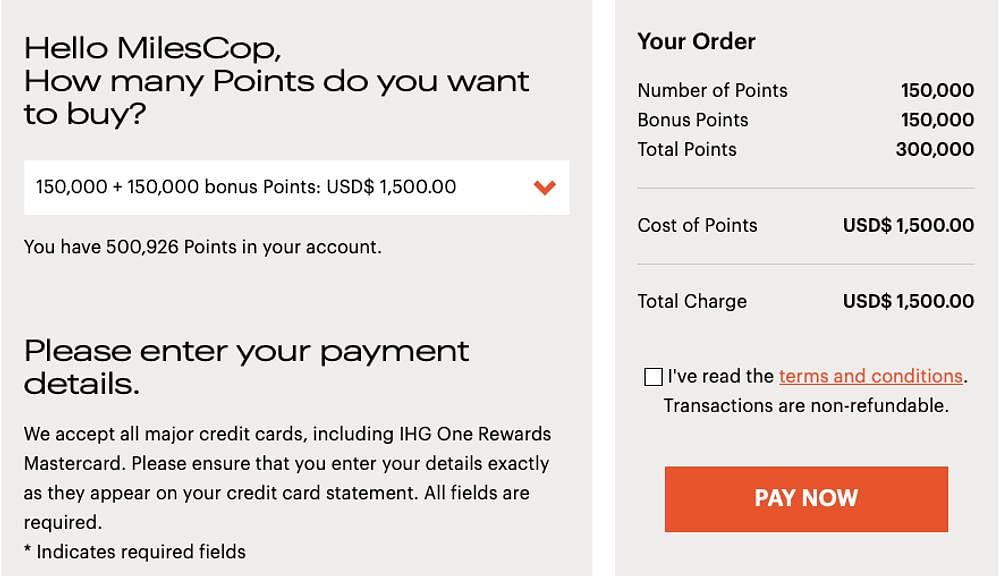 During a calendar year, members are allowed to purchase a maximum of 150,000 points. The number of points you can purchase during the Offer Period depends on the number of points you have already purchased in the same calendar year.
For instance, if you have already purchased 80,000 points in 2023, you can only buy up to a maximum of 70,000 points during the offer period. And you will only receive bonus points for the number of points purchased during the offer period.
Is it worth buying points?
Buying without a plan to use them in the near future is not advisable. Points can and do get devalued over time.
However, this is an excellent rate for IHG reward points. Most properties I checked are cheaper when booked via points earned at 100% bonus versus cash.
If you are falling short of a few points for a reservation or want to just top up your account, this is a good opportunity.