Marriott Bonvoy
Get 28.5% off when you purchase Marriott Bonvoy points
Mon Mar 22 2021 00:00:00 GMT+0000 (Coordinated Universal Time)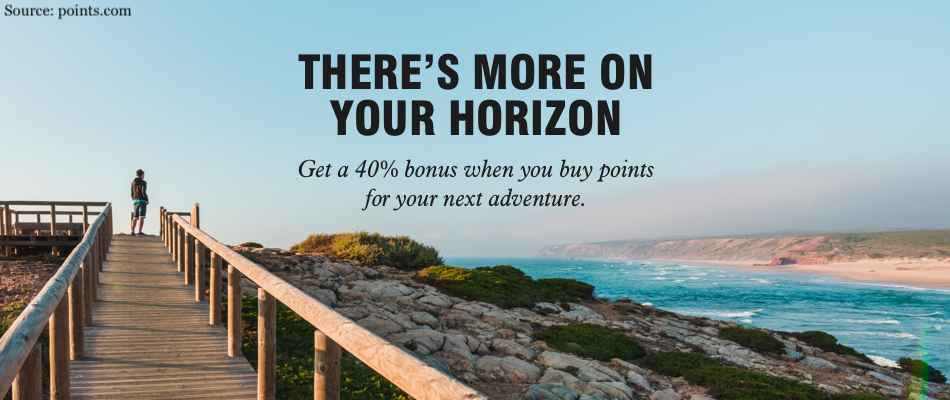 Buy for yourself or gift Marriott Bonvoy points by March 22nd, 2021 and get ~28.5% off.
View Offer
Please Note: Content on this page is for information purposes only and we do not guarantee the accuracy or timeliness of the same.
Disclosure: Some links on this page might be affiliate links.
Even though buying points is rarely a good idea, at times a little topup or some crazy pricing difference between cash and points price of a stay can make purchasing points a better deal.
If you happen to be in need of Marriott Bonvoy points, this might be a good time.
Marriott is offering 40% bonus points, i.e. ~28.5% discount, on points purchases. Discount is available on purchases of 2000 points or more by March 22nd 2021.
Marriott has also doubled the annual purchased points limit to 100,000 points.
Here's a glimpse of how much you pay and bonus points you will receive.
Good to know
Purchased points do not count toward Marriott Bonvoy Elite status.
A member may purchase or receive as a gift from another member a combined maximum of 100,000 Points.
Points that have been already purchased or received as a gift in 2021 are included in the 100,000 Points annual purchase limit.
The 40% bonus Points earned with this promotion are not included in the 100,000 Points annual purchase limit.
Points purchases will be fully processed up to seven business days after purchase.
You must be a member in good standing to purchase, gift and receive Points.
New members may purchase Points thirty days after enrollment if their Marriott Bonvoy Account reflects qualifying activity.
After one year from enrollment, new members are eligible to purchase Points regardless of their Account activity.
Once Points have been purchased or gifted, no refunds will be permitted.