After a very long wait of 3 years, American Express India has launched a points transfer promotion with Marriott Bonvoy.
American Express cardholders in India get 30% bonus on transferring their American Express Membership Rewards points to Marriott Bonvoy.
The standard transfer rate of Amex to Marriott is of 1 Bonvoy point for every Amex point transferred. With this promotion, you will get 1.3 Marriott Bonvoy point for every Amex point converted.
You can transfer points from your Amex account page.
This offer is valid for transfers until October 31st, 2022.
You need to transfer a minimum of 100 points. The upper limit being 900,000 points.
As per the terms, bonus Marriott Bonvoy points will be credited to the concerned Marriott Bonvoy ID within 12 weeks from the offer end date. However, as per my experience, the points are credited instantly for most.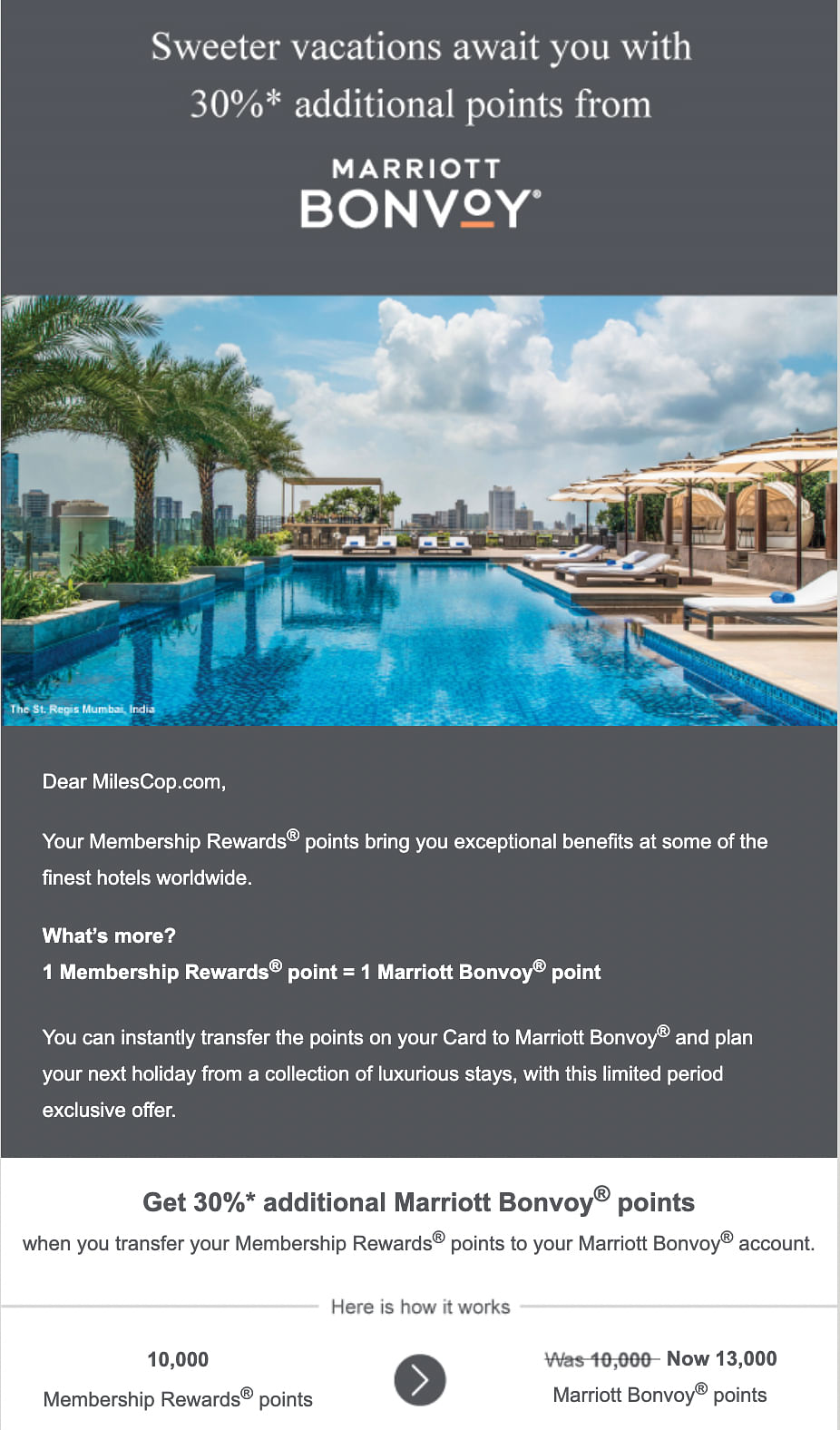 Is it worth it?
Marriott generally gives you highest value per point compared to all other transfer option available for American Express Membership Rewards points in India.
30% extra is a sweet bonus. There might be higher bonus opportunities in the future. But you don't know how long you will have to wait. This one came after 3 years.
Taj being another good option, if you also have an Amex Gold card in your wallet. Gold cardholders in India get better value on Taj Vouchers than Platinum (India's Marriott Bonvoy Credit Card) cardholders. However, you can have both cards and get the best of both worlds.
Whether you should transfer your points to Marriott Bonvoy or not depends on your upcoming travel plans. It's not a good idea to let point lie in your Marriott account, as Marriott has been continuously devaluing their points for years now.
I would be transferring at least half of my American Express points to Marriott. That's the best value I can get for my travel plans this year.