American Express cardholders in India now have the opportunity to transfer their Membership Rewards points to Marriott and receive a 30% bonus Marriott Bonvoy points. This offer is valid from November 16, 2023, to December 15, 2023.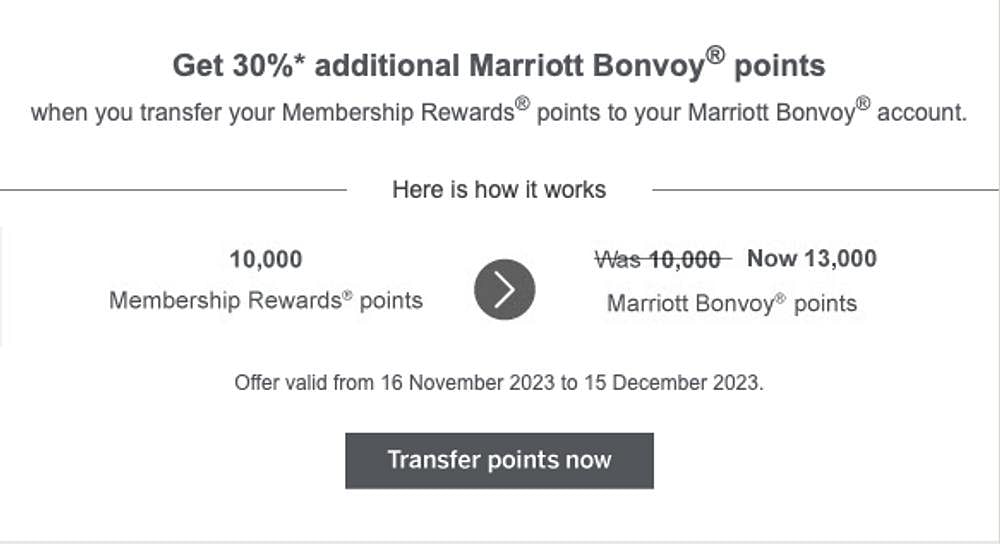 One of the great advantages of this promotion is that there is no minimum points requirement, allowing all (most) American Express users to take advantage of this offer. Additionally, there is no limit on the number of times you can transfer points during the promotional period. For every successful transfer of Membership Rewards points, you will receive a 30% bonus in Marriott Bonvoy points.
It is important to note that each redemption transaction must involve a minimum transfer of 100 Points. Furthermore, there is a maximum limit of 900,000 Points that can be transferred within a calendar year.
This is probably the best value one can get for American Express Membership rewards points in India.
To be eligible for this promotion, you must hold one of the following American Express cards:
The American Express Centurion Card
The American Express Platinum Card
The American Express Gold Card
The American Express Platinum Reserve Credit Card
The American Express Platinum Travel Credit Card
The American Express Membership Rewards Credit Card
The American Express Smart Earn Credit Card
Conclusion
Taking advantage of this offer allows you to earn a generous 30% bonus when transferring your Amex points to Marriott Bonvoy during the specified promotion period. This collaboration between American Express India and Marriott Bonvoy was highly successful last year as well and promises an excellent way to redeem your Amex points once again.