If you've ever booked a hotel stay or looked through a hotel brochure or website, you may have come across terms like AP, MAP, CP, EP, etc.
These terms are more common when you are directly dealing with a hotel. For example, to book a stay for a group, for an event, or negotiating a stay for a longer duration.
But what are these terms supposed to mean? Well, they are nothing but meal plans. They tell you which meals are included in the room rate, or not.
Let's break down what each of these meal-plans means:
AP or American Plan
The American Plan, sometimes referred to as Full Pension or Full Board Plan in Europe and some other countries, includes all three meals (breakfast, lunch, and dinner) in the quoted hotel tariff.
The American plan is ideal for tourists visiting remote places or resorts where food availability outside the hotel could be an issue due to location or hygiene concerns.
This plan is also excellent for booking events, weddings, workshops etc. Leaving meals open could often end up in a bill shock. Have an American Plan ensures that you know exactly how much the host is going to pay.
MAP or Modified American Plan
The Modified American Plan, also known as Half Pension or Half Board Plan in Europe and some other countries, includes two meals a day (breakfast and either lunch or dinner) in the quoted hotel rate.
Many tourists prefer this plan as it allows them to leave the hotel after a good breakfast and explore local restaurants for lunch.
Once back, one can then take a shower, relax for a bit, and then enjoy a nice dinner.
CP or Continental Plan
The Continental Plan includes room rent and complimentary breakfast in the tariff. If you decide to have lunch and dinner at the hotel, you can pay extra for those meals.
Most hotels include a breakfast buffet with tea, coffee, milk, juices, eggs, pancakes, local dishes, breads, and corn flakes with their Continental Plans.
Some select service hotels may offer a limited buffet, or a set/packed breakfast instead.
CP or Continental meal plan, commonly known as the breakfast inclusive rate, is the most popular meal plan among tourists as well as business travelers.
EP or European Plan
The European Plan has the lowest tariff on rate cards because it only includes room rent without any meals. This plan gives guests the option to try local food and save money by paying for meals only when they choose to eat at the hotel.
Guests can also try out different restaurants within or outside the hotel for breakfast each day. It's also good for occasions where you are supposed to leave early. For example, to catch an early morning flight, where you won't have the time for breakfast anyway.
This plan is also suitable for guests with dining memberships at certain hotels. The discount offered with dining memberships is often better than booking a meal included plan.
Club Access Plan
Many hotel chains offer Club Access or Club Lounge Access Plans that allow guests access to the hotel's club or executive lounge.
The clubs generally offer complimentary breakfasts, all-day beverages, light snacks during fixed hours, free drinks in the evening, and sometimes (very rarely) meals.
Club Lounge Access plans can be booked online, and guests who book these plans are likely to be offered a room on the same floor as the club lounge.
Depending on the rate booked, you might have access to breakfast at the lounge as well as the main restaurant.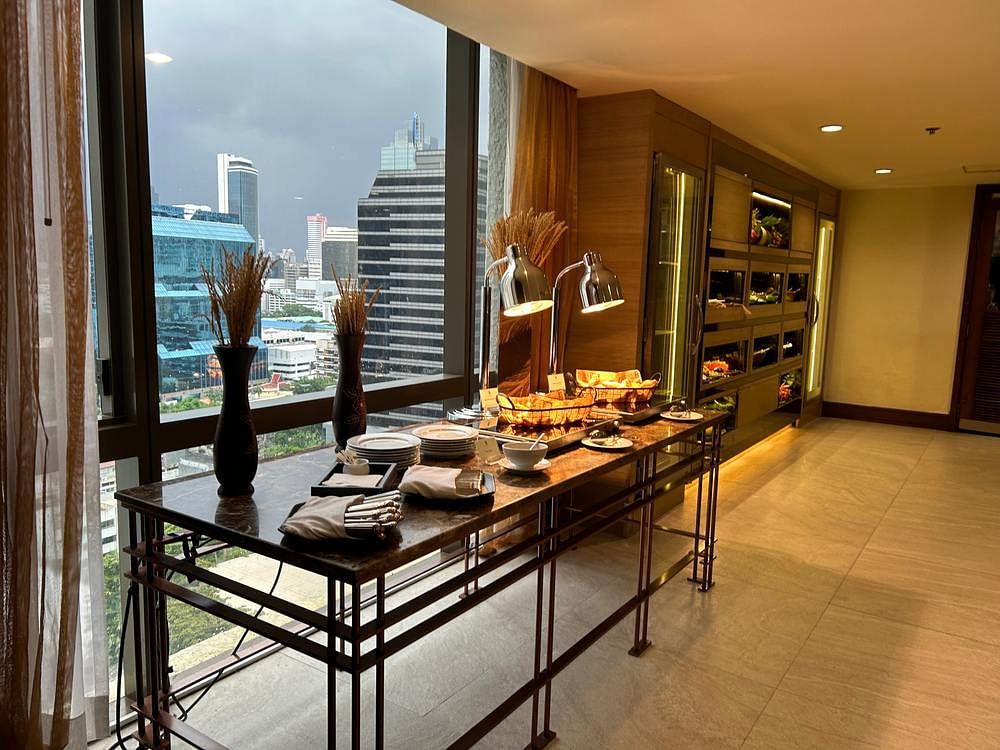 Even though the spread at the club lounge would be smaller in most cases, it is still preferred by guests who want to avoid too many tourists or waiting times. Club lounges are much quieter and emptier, especially outside the US.
Many hotel chains offer Club Lounge access free to their top elite members. If you wish to achieve elite status at hotels, keeping track of hotel promotions and upgrade offers can help.
It is generally not recommended for groups, meetings, or other events to book rooms with Club Lounge Access. Lounges are usually smaller spaces where guests are expected to be quiet and considerate of others. Additionally, most lounges have a dress code that must be followed.
Furthermore, some lounges do not permit guests with young children, or may only allow them during specific hours. In these situations, alternative arrangements would be made, such as offering complimentary drinks and snacks at the main restaurant.