Accor Plus is an interesting program. It's sold primarily as a dining program in Asia Pacific. However, I have found it to be much more useful as a travel benefits program that's worth its weight in gold across Asia Pacific.
Let's start at the beginning.
Accor Plus is a paid membership program by Accor hotels. It comes with the primary benefit of up to 50% off on dining at participating Accor restaurants in Asia Pacific. However, it's the other benefits that make the program so much more rewarding, and fun!
Let's quickly look at all the benefits of Accor Plus membership.
Benefits of Accor Plus
(New) 20 status night credits
Starting August 2023, new and existing Accor Plus members will get 20 status night credits every year. This makes it much easier to get upgraded to Gold or Platinum status with Accor ALL.
50% off on dining
If you are an Accor Plus member, you get a minimum 25% discount on dining and up to 50%, depending on the number of guests. – Dine alone for 25% off your food bill – Dine with one guest for 50% off – One member and two guests get 33% off – One member and three guests get 25% off.
In restaurants in Australia, New Zealand and Fiji you can use multiple cards per table to maximize the discount. In Asia, you also get 15% off beverages at Accor hotels and resorts.
If the restaurant is leased to a third party, the discount won't be applicable.
The discount is also not applicable on in-room dining. You need to have your meal at the restaurant to avail of the discount.
In my experience, the discount is not valid on restaurants with local promotions and for certain buffets. À la carte, I never had a problem.
Tip: Always show your Accor Plus card before ordering and verify the discount you are eligible for. This minimizes confusion and you can order accordingly.
Even if you are not staying at an Accor property, you can just walk in for a meal at 50% off.
Red-hot rooms
In my opinion, 'Red Hot Rooms' is the most exciting benefit of Accor Plus membership. At any given time, Accor has select hotels across Asia Pacific at up to 50% discount. Occasionally, this list includes some premium properties like Pullman and Sofitel as well.
The Red Hot Room discount is not limited to the basic room. Premium rooms and suites are also often available at a discounted price.
You can check the list of current hotels on Red Hot Room sale here.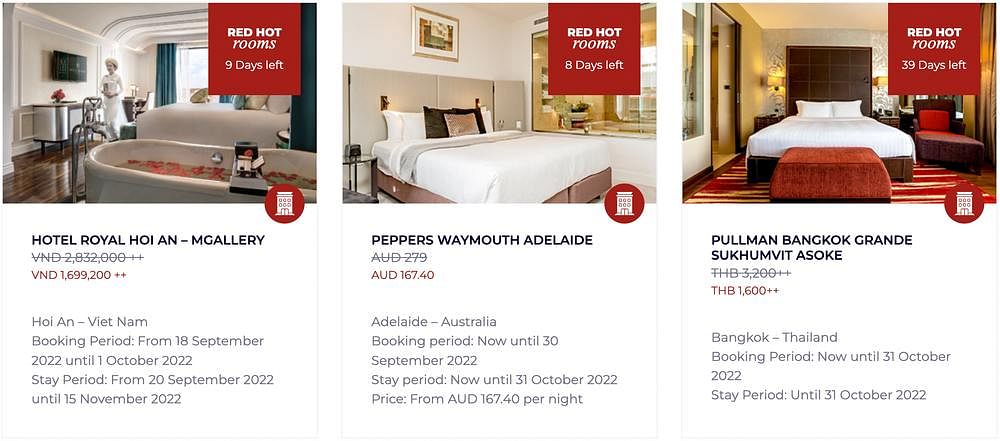 10% extra discount on all stays. That's 20% on app.
Accor ALL members get up to 10% off when booking via their mobile app. Accor Plus members get an additional 10% off on most rates.
Good news is that Accor combines both rates and gives you 20% off at all properties in Asia Pacific. For base rates, this is a pretty good offer and the cheapest rate most of the time.
Extra 10% off for members is applicable on promotions as well.
Silver status with fast track to gold and platinum.
As soon as you join Accor Plus, your Accor ALL status gets upgraded to silver elite. Provided you are not an elite already.
However, Accor has also started offering fast track opportunity to Accor Plus members. If you are a silver, you need 10 nights fewer to reach gold. And if you are gold, you require 15 nights less to reach platinum.
Note that the fast track offer requires registration.
1 free night = Free Accor Plus membership.
Accor Plus membership comes with 0, 1 or 2 complimentary nights, depending on the plan you purchase.
What makes this very useful is the ability to use the free night anywhere in the Asia Pacific. Unlike other dining programs, this isn't tied up to a particular property or region.
You can easily get more value than what you paid for the membership with stays in countries like Singapore and Australia. Doesn't matter where you purchased your membership from.
Some vouchers for local use.
This is the only part of the Accor Plus membership that's linked to the city/country you are purchasing the membership from.
Depending on your location, your kit may come with a set of local use vouchers. This generally includes complimentary buffet, drinks, birthday cake, and group discount vouchers. This will vary from location to location.
Cost of Accor Plus membership
Accor Plus membership comes in 3 flavors, and not all are available in every country. Even the price varies from country to country.
However, the basic cost is approximately the same plus minus 20%.
| Membership Plan | Complimentary Nights | Cost |
| --- | --- | --- |
| Accor Plus Traveller Membership | 0 | ~150 USD |
| Accor Plus Explorer Membership | 1 | ~200 USD |
| Accor Plus Explorer Plus Membership | 2 | ~275 USD |
Unless you have absolutely no use of complimentary nights, the best value is in the highest plan you can get.
You can check current membership cost across regions here.
Credit Cards offering free Accor Plus membership
You can also get free membership to Accor Plus with certain premium credit cards. Here's a list of credit cards that offer complimentary Accor Plus membership.
Australia – American Express Platinum Card
Singapore – Amex Singapore Airlines Card
India – AxisBank Reserve
This list is still 'work-in-progress'. Please let us know if you know of credit cards that offer Accor Plus membership in your country, and we will update this list accordingly.
Accor Plus FAQs
Which hotels are participating in the Accor Plus program?
Banyan Tree, Sofitel Legend, Fairmont, SO/, Sofitel, MGallery, Art Series, Mondrian, Pullman, Swissôtel, Angsana, Grand Mercure, Quay West, Peppers, The Sebel, Mantra, Cassia, Novotel, Mercure, BreakFree, Ibis, Ibis Styles, and Ibis Budget.
Countries where Accor Plus benefits are applicable?
Australia, Cambodia, China, Fiji, French Polynesia, Hong Kong, India, Indonesia, Japan, Laos, Macau, Malaysia, Maldives, Mongolia, Myanmar, New Zealand, Philippines, Singapore, South Korea, Taiwan, Thailand, and Vietnam.
Are there hotels not participating in Accor Plus program?
There are a few hotels not participating in the Accor Plus membership program. You cannot use your stay voucher at the properties listed here and dining benefits may not be available at these restaurants.
Is Accor part of Marriott?
No, both are independent hotel chains and have nothing to with each other. Unless Marriott buys Accor or vice-versa.
What is the difference between Accor Plus and Accor Live Limitless?
ALL or Accor Live Limitless is a loyalty program that is free to join and helps you earn points for your stays, which you can redeem later for free nights or other stuff.
Accor Plus, on the other hand, is a paid membership program with additional benefits (as detailed above).
Where can I use Accor Plus?
You can use Accor Plus at any participating Accor property in Australia, Cambodia, China, Fiji, French Polynesia, Hong Kong, India, Indonesia, Japan, Laos, Macau, Malaysia, Maldives, Mongolia, Myanmar, New Zealand, Philippines, Singapore, South Korea, Taiwan, Thailand, and Vietnam.
How do you use stay plus complimentary night?
You can use your stay plus complimentary night directly from the app or website while booking. It's pretty easy and straightforward.
Can Accor members book for someone else?
All member benefits are available only if the member is staying (or dining) at the hotel. This is the case for all loyalty programs. You won't earn any points or nights, or get any benefits for your status if you are not present at the property.