Complimentary Priority Pass membership is one of the biggest draws of some premium credit cards that come with a hefty annual fee.
However, recent reports of Priority Pass lounges being always crowded raises the question if such cards are worth that annual fee?
Short answer – They might still be. Especially if you travel international, or if the card fee is not high. Having said that, the answer is not that simple.
We will need to discuss in a little more detail to understand crowding at Priority Pass Lounges to come to a conclusion.
Priority Pass Lounges
Priority Pass Lounge is a place to relax before your flight. You can enjoy complimentary snacks and beverages, use the Wi-Fi, and catch up on work or reading. Some lounges also have a variety of amenities to make your stay more comfortable, including private showers, power outlets, and TV entertainment.
Lounge access is not something you can't fly without. But it can be incredibly useful. It's a perk that was once a status symbol. Now, it's more of a habit and in some cases, a need.
Airport lounges are meant for travelers to relax and escape the hustle and bustle of the airport. The frustration is understandable if people have to stand in long queues, or are denied entry, or are unable to work or relax in a crowded lounge.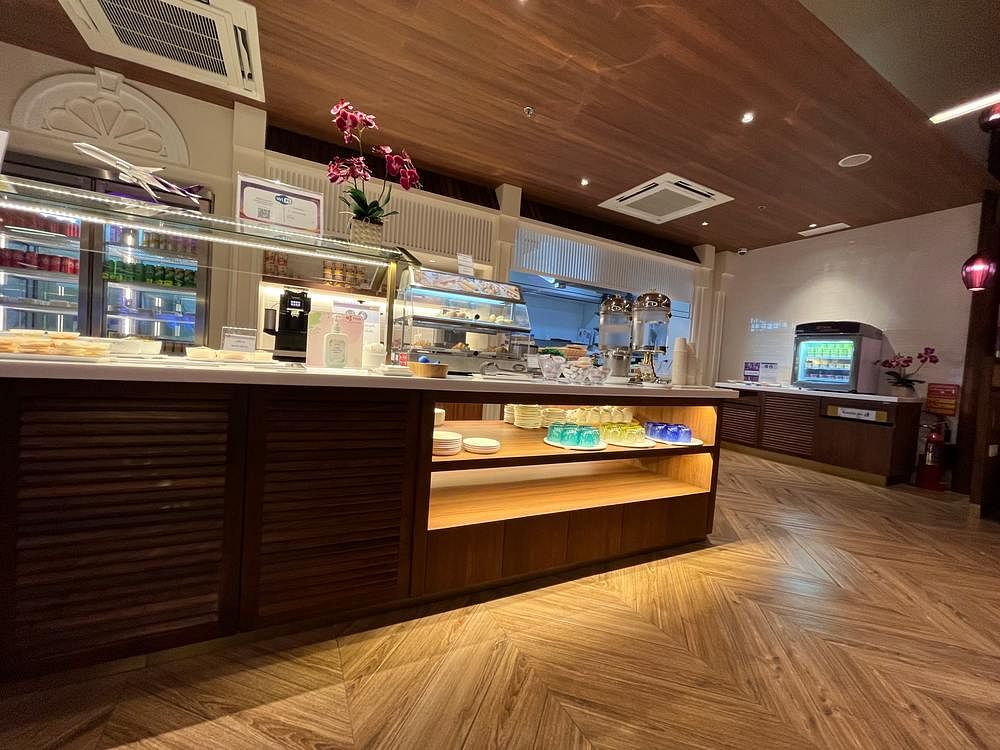 Why are Priority Pass lounges at airports so crowded?
Priority Pass lounges at airports can be crowded for a variety of reasons. Every so often, the airport is simply busy and there are more people in the lounge than there are seats. Other times, there may be a flight delay or other travel disruption that causes more people to seek refuge in the lounge.
Having said that, these reasons have always existed, and we have all seen lounges getting overcrowded at times.
But why has there been a surge in reports of crowded Priority Pass lounges lately?
Well, you can thank COVID-19 for that.
Understaffed airports and delayed flights = Crowded lounges.
Almost every organization in the hospitality industry is understaffed post Covid-19. Be it airports or airlines or even lounges.
There are long queues at the airport and therefore people reach the airport way earlier than required. And where do they end up spending the extra time in hand? That Priority Pass lounge close to the gate.
Then there are flight delays due to understaffing, Pilot shortage, etc. Passengers, as expected, spend even more time at the lounges.
There are more premium credit card holders than ever
Every business was trying to find ways to stay afloat during the lockdown. Credit card companies were no different.
They expanded the eligibility scope for premium credit cards and started offering it to a lot more people. The card companies got hefty annual fees and plenty of customers managed to upgrade to premium cards, which they would have otherwise found difficult.
And most premium cards come with Priority Pass Memberships. Leading to more and more people eligible for complimentary lounge access.
Several hotels are also facing a similar problem. Thanks to these premium credit cards, there are more elite members than ever. And it's difficult to offer elite benefits to so many customers.
Not all lounges are operational
There is a shortage of staff at lounges. But there is a shortage of lounges as well. Several lounges got closed during Covid-19. Some permanently, some for time-being, and some for renovation.
More and more of these lounges are reopening now, so things should improve from here.
Many lounges operated by airlines were also closed during the pandemic. Guests eligible for these lounges are being offered access to other lounges. Most of these lounges are part of Priority Pass network. Thereby, resulting in even more crowding.
Priority Pass vs. Other Lounge Programs
When it comes to the issue of overcrowding, this doesn't matter. As most of the lounges that are part of any lounge program are the same.
Whether you scan your Priority Pass at check-in or Dreamfolks, the crowd will be the same. There might be a few exclusive lounges here and there.
But things are different at international airports
Most of the overcrowding reports are from the US and a few high traffic airports around the world. In the US, some lounges also cap the number of Priority Pass users they allow at a time.
Things are slightly better (or much better in some cases) at airports outside the US.
In fact, Priority Pass is excellent for a trip to Asia. Some of the best airport lounges in Asia can be found in Hong Kong, Singapore, and Bangkok. Indian airports have some excellent priority pass lounges at domestic terminals, especially Mumbai.
If you are traveling outside the US, there are chances that your Priority Pass will come in handy.
Things are looking better
As things crawl back to normalcy (whatever the new normal will be) post the pandemic, things have started improving.
Airlines are getting their act together. Fewer delays have a direct impact on crowds at lounges.
More and more lounges that were down for renovation are coming back up. And several airports around the world are getting new lounges. You can expect them to be more crowd ready than previous ones.
Priority Pass is tying up with more and more restaurants at airports. Which is better than lounges for travelers who just want to grab a quick bite before boarding.
Meanwhile, if you have time to kill at the airport, you can check out other lounges at the airport as well. Crowd is not always evenly distributed.
Is Priority Pass membership still worth it?
In my experience, Priority Pass membership is still worth it if you frequently travel outside the US. If you do not travel often or mostly fly domestic in the US, you should do your calculations. However, things will most likely improve with time.
A premium credit card comes with numerous benefits. Priority Pass lounge access is just one of them. I would still decide on keeping or switching cards based on these other benefits. Primarily, because almost every premium card comes with Priority Pass membership anyway.
If you travel for leisure, try booking flights during non-peak hours. I know it's absurd to choose flight based on lounge crowding. However, non-peak hours also means shorter queues at security and overall a smoother experience.