When travelling, the last thing you want to worry about is whether your bag will make it to the plane or not.
You have to be careful about what you are allowed to pack and what you aren't. At the same time, you also have to make sure the bag you are packing all the stuff in will be allowed in the cabin.
Carry on or Hand Luggage or Cabin Baggage are very convenient because you can simply land and rush out of an airport without needing to wait for your checked-in luggage to arrive. Plus, they provide enough space to stuff in essentials for a short trip.
However, picking the right size for a carry on can be complicated. Especially if your trips include passing through border control.
Unfortunately, there is no one size fits all
Several factors determine how much you are permitted to bring onboard a plane. Some of the most common ones are:
Airline you are flying.
Ticket type purchased.
The country you are travelling to.
Several airlines have different rules for the size of the carry on luggage you can bring on board. Especially the LCCs (Low-Cost Carriers) and regional airlines can have lower limits for the luggage allowed.
Ticket type also plays a role. In some cases, a cheaper ticket might allow only a small bag and another ticket might allow a cabin trolley and a small bag.
Tip: Always keep a backpack in your carry on luggage so that you can transfer your laptop, power bank etc., in case you need to check in your luggage.
What is the right carry on luggage size?
Te allowed carry on luggage size might vary depending on numerous factors.
However, most airlines have a carry on bag size of 22x14x9 inches or 56x35x22 cm. Anything larger than the carry on size will be checked and might incur an additional fee.
IATA recommends a maximum size of 56 cm × 45 cm × 25 cm or 22 in × 18 in × 10 in, including wheels, handles, and pockets etc.
Several airlines allow one carry on bag and one personal item, such as a purse, briefcase, or laptop bag. The personal item must be able to fit under the seat in front of you.
Some items that are usually considered personal items include: umbrellas, cameras, food, reading materials, and small toys for children.
If you have a lot of luggage, it is best to check with your airline ahead of time to see what their specific restrictions are.
Don't forget to check with your airline and read instructions on your ticket for allowed luggage weight and size.
Some airlines might also have a linear dimension rule
The first step is to measure the dimensions of your carry-on bag. This can be done by measuring the height, width, and depth of the bag and then adding them all together. The total dimension (the linear dimension) should be less than or equal to 115 cm (45 inches) in most cases.
If you're unsure what type of bag will fit these dimensions, most airlines have a list of approved carry-on luggage sizes on their website.
Other Considerations
Carry on bags must be capable of fitting in a single bin without being forced to fold or bend.
It should also be able to fit through an airport X-ray machine.
Some countries/airlines also have a restriction on the weight of the carry on you can bring with you.
The safest carry on luggage size to buy
Various rules and sizes globally can be confusing and at times force you to own multiple carry on bags of various sizes.
One way to solve this is to buy the smallest size allowed by any airline.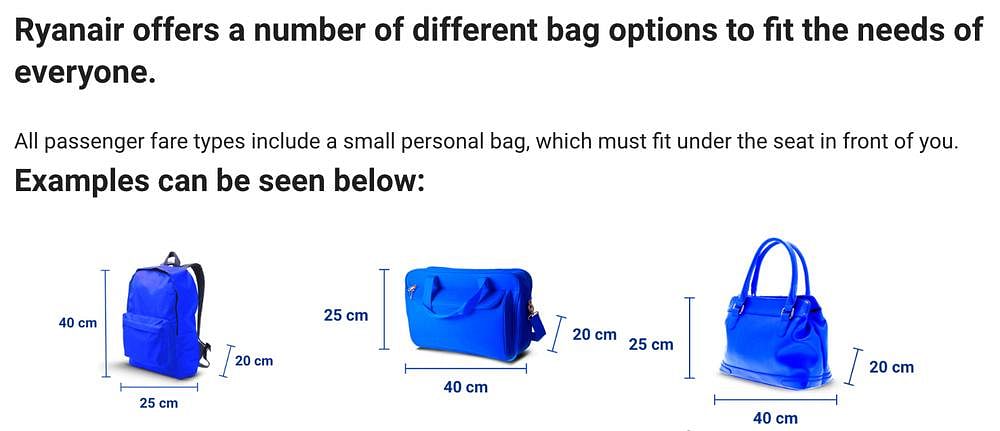 As of writing this post, Ryanair seems to have the smallest carry on luggage size allowed at 40 cm × 25 cm × 20 cm, closely followed by Wizz Air at 40 cm × 30 cm × 20 cm.
This might be pretty small in some cases. However, if a small bag is enough for you, this should do the trick.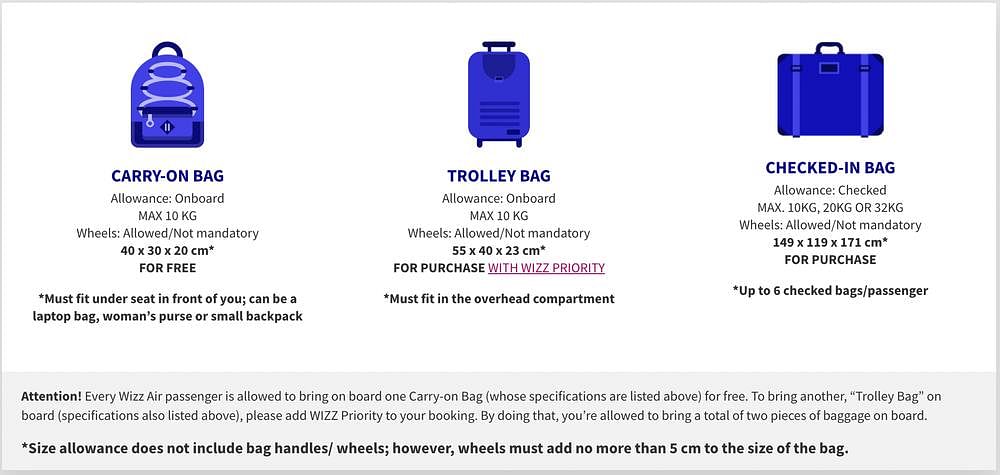 The best carry on luggage size for each type of traveler
There is no one perfect carry on luggage size for all travelers. What might be the best carry on luggage size for one traveler might not be the best option for another.
However, there are some general guidelines that can help you choose the right carry on luggage size for your specific needs.
If you are a business traveler, you will likely want a carry on luggage size that is large enough to hold all of your work-related items. If you are a leisure traveler, on the other hand, you may prefer a smaller bag that will leave more room for souvenirs while your checked in luggage holds on to the rest of the stuff.