Buying reward points is not something we recommend until you have a clear plan for using them and hence can calculate their worth.
However, IHG Rewards is one of the few programs where buying points is worth more often than not.
Current Promotion for IHG points purchase: 100% bonus flash sale
IHG is offering 100% 75% bonus on buying points. Being a flash sale, the timeline to purchase is short.
Buy up to 150,000 IHG Rewards points and get another up to 150,000 bonus points. You can access the promotion here.
Offer ends September 10th, 2022.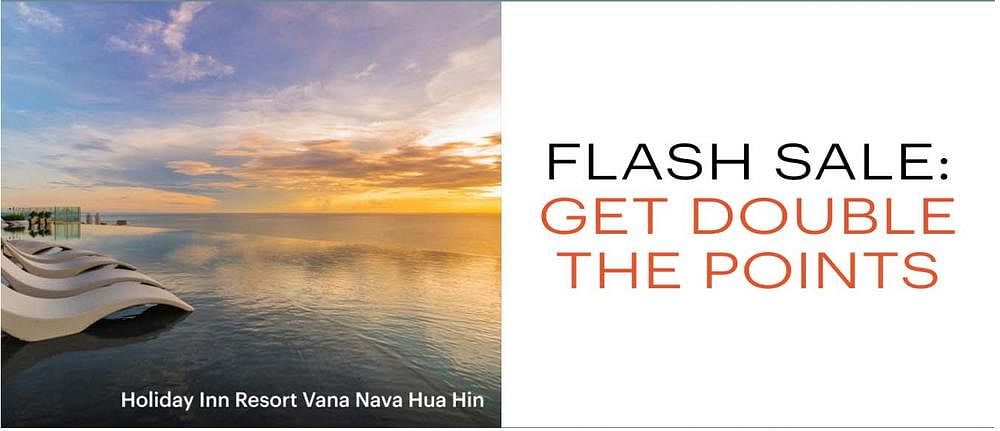 Calculate IHG Rewards points redemption value for a stay
Before we talk about whether buying points is worth it or not, we need to calculate what IHG reward points are worth for the stay you are targeting.
There are 3 important points to consider when calculating the points value:
The final stay cost (inclusive of all taxes and fees)
Number of points you would have earned on the stay if booked on cash.
Number of points required for redemption booking.
A lot of people (and other travel sites) don't consider point no. 2 - lost points earning opportunity. However, that's very important. Let's see why.
Suppose your stay at an IHG property costs 100$ (all-inclusive) in cash. And with your IHG elite level and other promotions, let's say, you would earn 1700 points.
On the other hand, let's say that the number of points required for redemption is 15,000.
So the actual number of points you are losing is not 15,000 but 16,700 (15,000 plus 1700).
The redemption value of each point, in this case, comes to 0.59 cents.
Now we have how much the points are worth, let's see how much we need to pay to buy IHG points.
Buying IHG Rewards points
You can buy IHG Rewards points from your IHG account here.
The regular price for buying IHG points is around $10 per 1000 points, if you buy more than 25,000 points.
However, you should almost never buy IHG points at regular rates.
IHG often has points purchase promotions that can get you a significant discount.
The promotions range from 30 to 100% bonus on points purchase. Here's a quick chart for comparison (assuming you buy more than 25,000 points).
| Promotion | Rate | Effective Price |
| --- | --- | --- |
| Regular (no bonus) | $1 per 100 | 1 cent per point |
| 30% bonus | $1 per 130 points | 0.77 cents per point |
| 50% bonus | $1 per 150 points | 0.67 cents per point |
| 75% bonus | $1 per 175 points | 0.57 cents per point |
| 80% bonus | $1 per 180 points | 0.56 cents per point |
| 100% bonus | $1 per 200 points | 0.50 cents per point |
Should you buy IHG points or not?
If you have a stay in mind and have calculated the redemption worth of a point (0.59 in our example above), it's easy to decide.
You just have to see the current IHG points purchase bonus and compare it with redemption point worth.
In our case (0.59 value), 75% and above bonus rates work out to our advantage. Less than a 75% bonus, it's better to pay cash instead.
Of course, there is the scenario where you just need a few points to top up your IHG balance and reach the target stay. In that case, it probably makes sense to purchase and go ahead with it.
How much are IHG points worth generally?
Even though the redemption value of IHG points may vary from property to property, in our experience, you can easily get a value of 0.55 cents per IHG point or more at several IHG properties.
At the same time, remember that IHG can change the value of points anytime.
Limits on IHG points purchase
There's a limit on the number of IHG points you can purchase in a year.
You can buy a maximum of 150,000 IHG points (excluding bonus points on purchase) in a calendar year.
You can additionally get another 150,000 points per calendar year as a purchase points bonus or as a gift.
What if you have a great deal and want more points than allowed?
Well, it's time to turn to your better half or whoever you travel with. They can also purchase up to 150,000 points in a year and you can split your booking into two parts.
Make sure you don't create multiple accounts as it is against the terms of IHG Rewards. Moreover, IHG is pretty quick at spotting such accounts and you will lose your points and status for good.
So the point is…
IHG gives you a far better value on points when it comes to purchasing points than most other hotels.
If you travel often and to several countries, you can easily get a value of 0.55 cents or more per IHG point. In fact, I personally don't redeem IHG points unless I get a value of 0.60 cents per point at least (that can change anytime though).
So a 100% bonus promo will make sense almost every time. For other promos, you need to do a little more calculations.