IHG's 30,000 bonus points offer for September 2022 is not over yet, and we already have another global bonus points promotion for October to December 2022.
Called 'Pick Your Payoff', this promotion is similar but slightly better than the earlier one.
You have to pick between the following two options, depending on your travel plans.
Get 2,000 bonus points for every 2 nights.
Get 10,000 bonus points for every 4 nights.
You can choose and register for the offer on the promotion page
Once you have registered for either of the options, you can't change your preference.
You can register for the offer right away. However, the promotion is applicable on qualifying nights at IHG properties from October 13, 2022, through December 31, 2022.
You can earn unlimited bonus points under this promotion.
Which offer to pick?
This is an easy one. Option 1 gives you an average of 1000 points per night and option 2 is worth 2500 bonus points per night.
Pick option no. 1 only if you are going to stay exactly 2 or 3 eligible nights at IHG properties from October 13th, 2022 to December 31st, 2022. For everyone else, option 2 (4 nights, 10k points) is a better choice.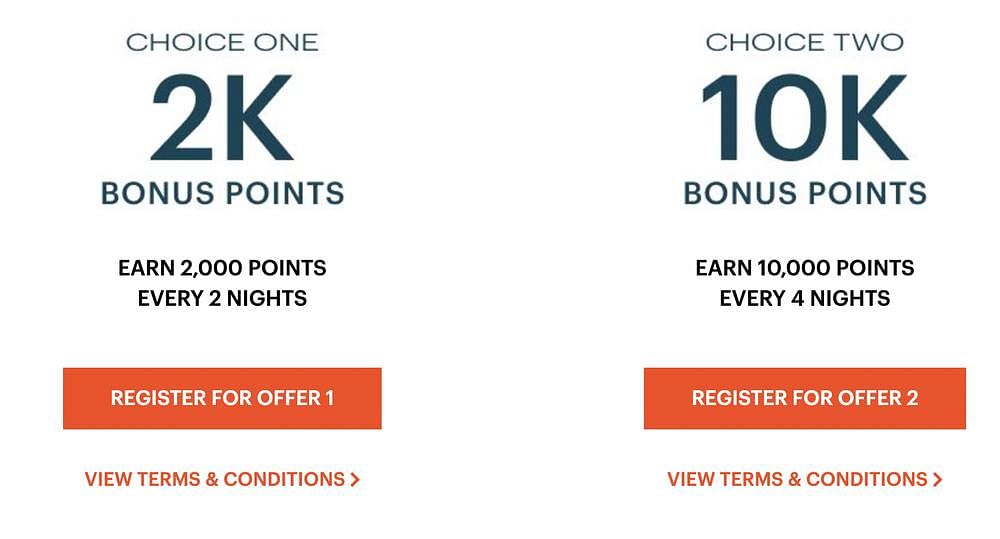 Participating Properties
All IHG Hotels & Resorts, Mr. and Mrs. Smith properties, and participating Six Senses Hotels, Resorts, & Spas.
Qualifying stay
IHG has a standard formula to calculate qualifying stays for promotions.
A Qualifying Stay is a minimum one (1) night stay booked under a Qualifying Rate, with total spend exceeding US $30 (or local currency equivalent) for each night.
It's safe to assume that this is pre-tax spending requirement.
Conclusion
IHG is coming up with back to back promotions since their loyalty program relaunch. And we are loving it.
This is another good promotion from IHG and somewhat similar to the latest global promotion by Marriott.