IHG's loyalty program got a major refresh a few weeks back. And now IHG is offering an opportunity to status match to their elite tiers and try out these new benefits.
These benefits include the all new IHG Milestone Rewards.
You just need to register for the status match promotion, and you will get upgraded to IHG One Platinum Status instantly.
Your status should be valid for 120 days.
This Promotion is not available to members who reside in Greater China.
Retaining Platinum for another year
There is a status match challenge also available along with this promotion.
Once you have registered for status match, you need to stay for 5 qualifying nights within 120 days of registration to extend your IHG Platinum status until December 2023.
It can't be easier than that.
Upgrading to IHG Diamond Elite
Similar to the Platinum status extension, there is another challenge available to upgrade your status to IHG One Diamond Elite.
If you stay for 15 qualifying nights(10 after you achieve 5 nights for the Platinum status) within 120 days of registration for the promotion, your status will get upgraded to Diamond Elite.
This status will be valid until the end of December 2023 as well.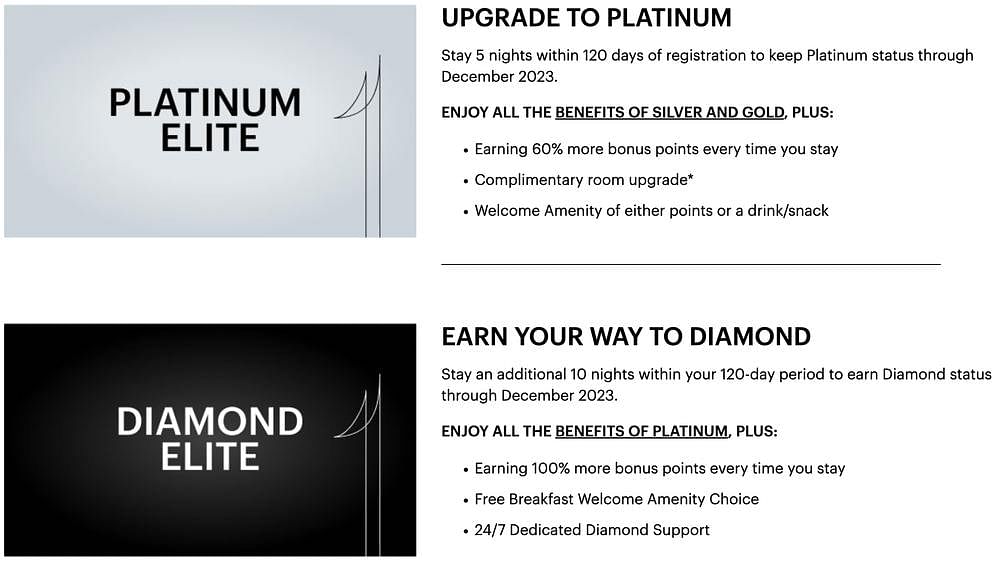 What is considered as a 'qualifying night'?
Room nights before registration or outside of a member's Stay Period are not considered for the promotion.
A "Qualifying Stay" is a minimum one-night stay booked under a Qualifying Rate, with total spend exceeding US $30 (or local currency equivalent) for each night.
Bookings made through online travel services or third-party reservation sites such as booking.com or expedia.com are not eligible for this promotion.
Conclusion
This is a great opportunity to get upgraded to Diamond Elite status with IHG and try out the new perks.
Normally, one would need to stay 70 nights in a year at IHG to get upgraded to Diamond Elite.