The time has come. For years several American Express cardholders have been enjoying complimentary Epicure membership. The old Epicure plan included Taj Innercircle Silver membership as well.
However, at the beginning of this year, Taj moved to their new re-imagined Epicure plans.
American Express still continued with the old plans. In fact, it was surprising that on the renewal of the American Express card, cardmembers still received the old Taj Epicure membership.
It was good till it lasted. Now, from September 1st, 2021, American Express is switching to new Epicure plans.
Any new complimentary Taj Epicure membership issued by American Express from 1st September 2021 will be the new re-imagined Taj Epicure plan.
Like its previous avatar, Taj Epicure is a watered-down version of the main membership that is available for purchase. That's understandable as the purchased Epicure plan contains a free night as well.
You can read about the new American Express Epicure membership here.
This is the mail from American Express that some readers have received.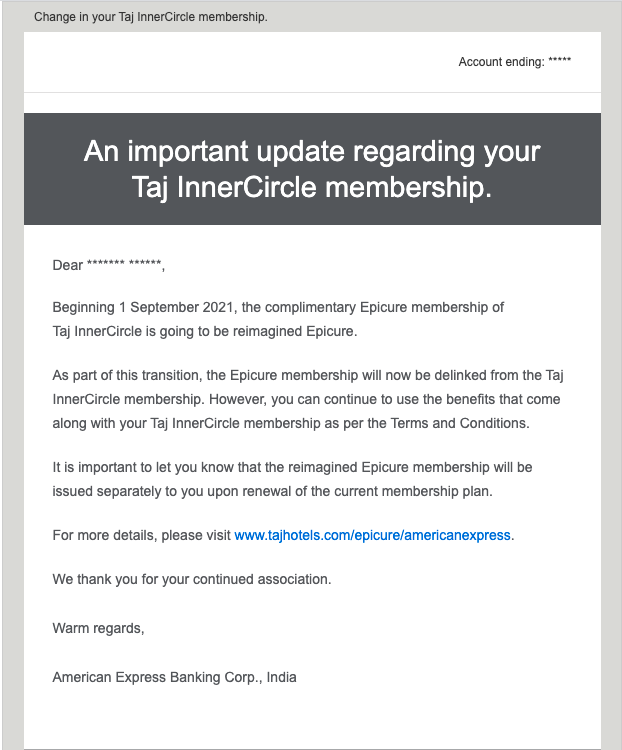 What happens to existing Taj Epicure memberships?
You will continue to get the existing benefits till your card renewal date. On renewal, you will be enrolled in the new program.
What are the major changes?
The major changes are as follows:
No more free Silver status with Taj InnerCircle.
No more three 50% savings certificates for dining.
You won't earn Taj InnerCircle points but you will get an instant discount instead.
What are the new benefits?
25% off at restaurants for up to 10 people.
20% discount on Qmin, Spa, and Salon.
1 voucher for a 20% discount at Taj Palaces for up to 5 consecutive nights.
1 voucher for a 20% discount on any room or suite.
1 voucher for a 20% discount at Taj Safaris for up to 5 consecutive nights.
Points vs Instant Discount - Which is better?
Cash discount at restaurants is always better unless someone else is paying for it (company?) or you can reimburse the bill.
The simple reason being when you book your next stay, cash can get you better deals (more points on booking) versus redeeming points.
Taj elite status becomes more elusive.
The biggest loss with these new epicure plans (even the paid ones you directly buy from Taj) is of complimentary elite status.
It seems there is no easy way to get Taj InnerCircle elite status without actually completing stay/spend requirements.
Status match with Shangri La is still available though.