Update: Hyatt has extended the offer till June 30th, 2022.
If there is one community that the last 15 months have been toughest on, it's - healthcare workers.
They risk their life, stay away from family, work for long hours without even getting a decent rest every single day.
There's no way to repay that. However, it's good to see that a little that any industry can do is doing it for them.
Almost all major hotel chains now offer special rates for healthcare and other frontline workers. Hyatt, however, seems to have the most interesting promotion.
Hyatt is offering 2 promotions for healthcare workers worldwide.
Up to 50% off for Healthcare Workers worldwide.
Complimentary vacation in association with American Airlines (NYC).
Up to 50% off for Healthcare workers worldwide.
Hyatt has extended their Friends and Family rate to all healthcare workers irrespective of the country or organization they work for.
This rate is available through December 31st, 2021 June 30th, 2022.
Family and friend rate offers anywhere between 30% to 50% off on the best available rate. Sometimes even more.
How to book healthcare workers rates for Hyatt?
The booking process is pretty straightforward. Head to Hyatt's website and use code THANKYOU in the special offer code section.
You will see a 'Healthcare Friends & Family' section in the results. The discount is not only genuine, it actually offers a great discount as compared to the regular rates.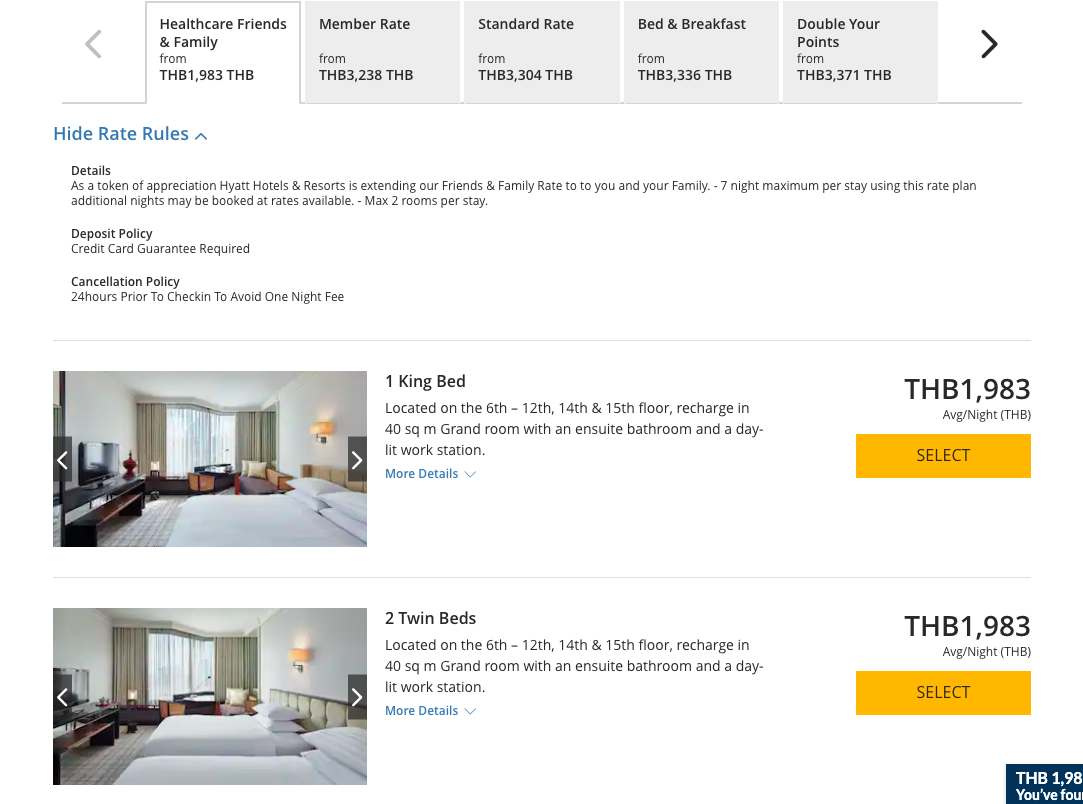 You can book a maximum of 7 nights and up to 2 rooms per stay.
Reservations can be canceled 24 or more hours in advance.
You will need to provide a valid id and enough proof of being a registered healthcare worker at check-in.
Complimentary Vacation for Healthcare workers
World of Hyatt and American Airlines have collaborated to provide complimentary vacations to thousands of health care heroes and frontline support staff.
This includes doctors, physicians assistants, nurses, medical staff to facilities, and food service teams.
Each of the staff members (4000+ staff) at NYC Health + Hospitals / Elmhurst plus a guest will receive a roundtrip flight from American Airlines to Hyatt hotels in select destinations across the U.S. and Caribbean.
You can read more about the program here.